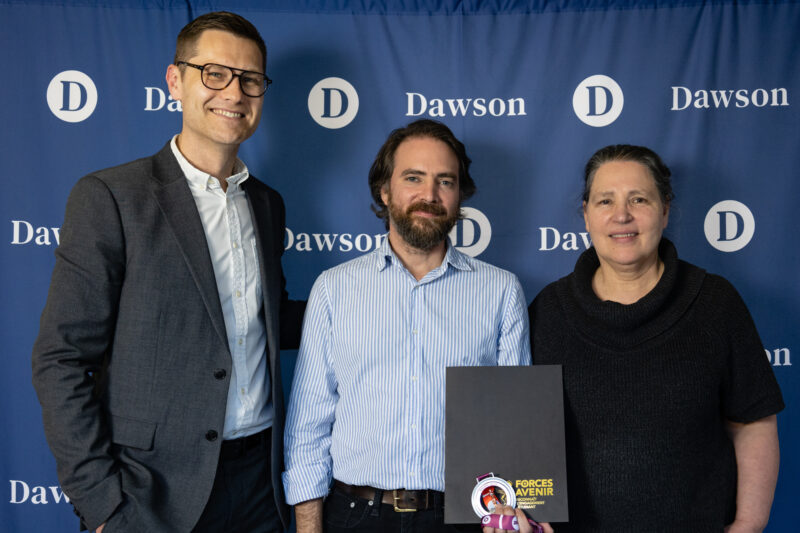 Outstanding Dawson individuals honoured with Forces Avenir awards
Three members of the Dawson community were honoured with Forces Avenir awards on May 4: students Kitenge Kayembe and Fred-Dgennie Louis were recognized, respectively, for commitment and perseverance. Physics faculty member Joel Trudeau was honoured for his commitment to students.

Kitenge Kayembe
From a young age, Kitenge Kayembe has felt a need to go for it. As a young Black woman, she felt pressure to outperform others. Now, she has decided to focus on doing what she loves and wants to do and letting go of external pressure.
Kitenge has been very engaged and involved in student life at Dawson. She has given over 60 volunteer hours as president of the Dawson Christian Fellowship, as secretary of the Black Students Association, as a member of the student volunteer group and as a peer tutor. In addition, she created and leads a K-pop dance group named Gem and belongs to the Dawson Karate Club. Outside of school, Kitenge plays on a rugby team.
The North-South Studies student has kept her grades up as well. She is on the Dean's List, which means her average is higher than 85 per cent.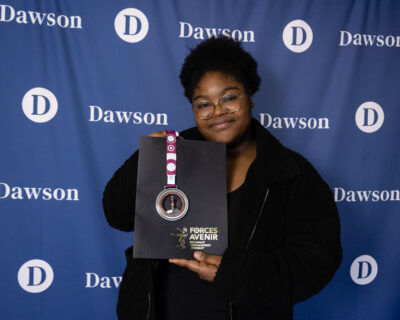 Fred-Dgennie Louis
Fred-Dgennie Louis had a rocky start at Dawson but did not get discouraged. We all have a different pace and setbacks are not the end of the story, she says. She thought her path was clear but discovered that Pure and Applied was not meant for her.
Fred-Dgennie began thinking about switching to Computer Science. Then the pandemic struck and complicated things for her. Studying was exhausting and difficult. In 2022, she was diagnosed with ADHD and everything began to make sense. With this knowledge, she developed a strategy to persevere and succeed. Fred-Dgennie's marks improved and last semester, her average in Computer Science courses was over 85 per cent.
Fred-Dgennie found support and encouragement in Dawson's Ada Society, a group that brings together women in Computer Science to meet and discuss challenges in the field.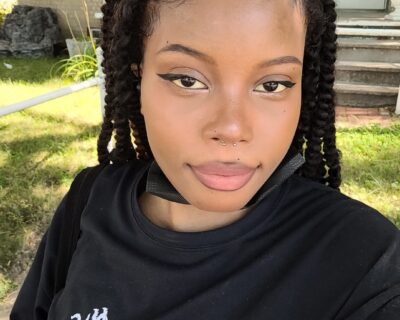 Joel Trudeau
The Forces Avenir award for committed faculty is a small way for Joel's colleagues to recognize his daily dedication to living his vocation as a teacher in an extraordinary way.
Joel has been a Physics teacher at Dawson since 2004. On the night of the awards, it was SPACE Week and Joel is the main force behind that. A few weeks earlier, he was renting and driving a truck to take his students to a robotics competition on the weekend. He was the faculty mentor to our students who started the IndigeSTEM peer tutoring support group for Indigenous students in Science. Then, there are opportunities for students to try brand-new things like AI and working in a maker space.
If there is a way to give a little extra to help students learn and experience more, Joel is there.
"I didn't submit the nomination," said Maxwell Jones, Dean of Science, Medical Studies and Engineering, "but if someone would have asked me to name our most engaged employees, Joel would have been at the top of the list."
Apart from hands-on work with students, Joel is very active in Physics and Science Education research with a special focus on design-based, active and experiential learning. He is motivated to keep researching, learning and improving so he and his colleagues can understand what students will need in the future and how best to adapt curriculum and teaching to meet these needs.
Our students are so lucky to have Joel as a teacher, project advisor and mentor.