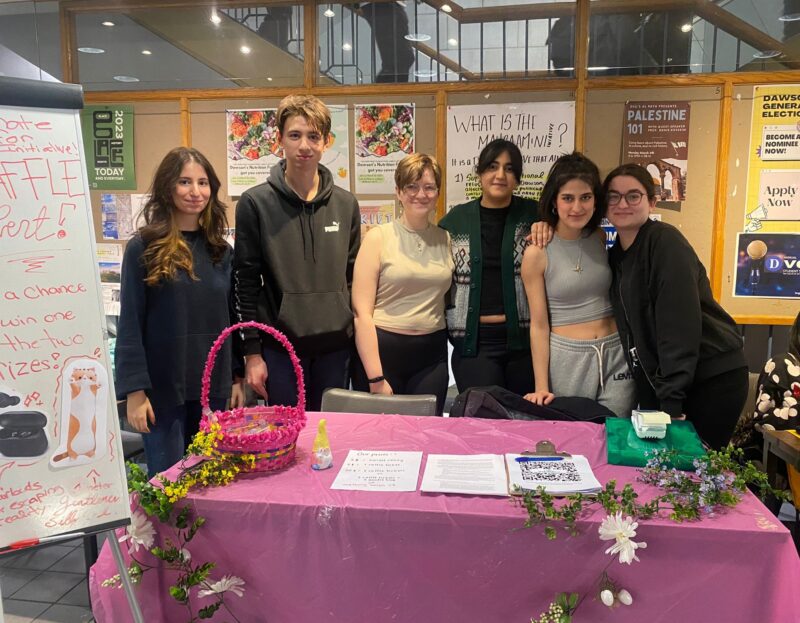 Mahsa Amini's legacy is alive at Dawson
In September 2022, Mahsa Amini was arrested in Iran for not wearing a hijab correctly. Eyewitnesses say she was severely beaten. Hours later, she died at the age of 22. Mahsa had just been admitted to university and intended to pursue law. Her death sparked protests in Iran and around the world.
At Dawson, the Mahsa Amini Initiative was created by students Kiana Lalavi, Shaneli Yaghoubi, Kiera Robak and Lina Adda. Their work was recognized on May 4 with the Forces Avenir Award in the category of Mutual Aid, Peace and Justice. Their project has also advanced for consideration at the provincial level.
Affirming the hard work
"Winning the award affirms what we're doing — attempting to bring together the international community and the local one, as there is still a divide between the two," said Kiera, a Law, Society and Justice student who is hoping to get into McGill Law in order to pursue a career in advocacy.
Fellow team member and CRLT (Community, Recreation and Leadership Training) graduating student Shaneli Yaghoubi said that winning "feels amazing. We all worked super hard on this project."
Shaneli was accepted into Human Relations at Concordia University and is hoping to continue working in the community and being an activist. She loved CRLT and is "super sad that I'm graduating. If it wasn't for the support of my faculty and friends I made, I would not have been where I am now with this project. All the group development, and care for the community is the reason I'm here."
Three components
There are three components to the initiative: an awareness campaign in support of Iranian protesters following the death of Mahsa Amini; a bursary targeting international and refugee students with financial need; and a mentorship program fostering more engagement and increasing students' sense of belonging at Dawson College.
The first phase in the fall of 2022 included a vigil and a symbolic hair-cutting event with over 2,000 participants. "The biggest thing that I've learned is that a community will come together in solidarity in times of need," Kiera said. "The Mahsa Amini initiative started out as a solidarity movement with the people of Iran. It unexpectedly grew and became a budding network to support the local international community. Through this unexpected development, I have met and talked to many people and have found insight that I would not have been able to get from the news or other media."
Although the initiative began with a show of support for Iranians, the goal going forward is to raise awareness for human rights issues around the world. Phase two consists of a bursary for which the students are currently fundraising. So far, they have raised more than $5,000 toward the $20,000 goal. Planning has begun for various other events, including an intercollegiate dating show, to raise more funds.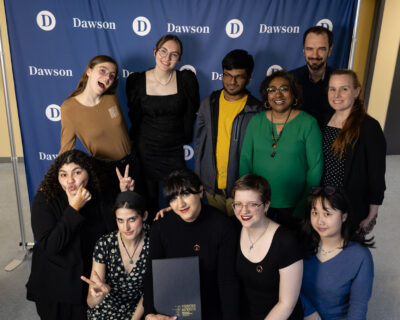 More to come in the fall

The bursary for the Mahsa Amini Initiative will launch in Fall 2023 along with phase three of the initiative, the mentorship program. "We heard the feedback of the community," said Shaneli, who is herself an international student. "It's hard making friends when you have just arrived in Canada, so this mentorship program provides that safe space to create those relationships and friendships."
In addition to supporting international students and refugees, this project fosters peace, cooperation, and engagement in Dawson and the surrounding community. "The ultimate goal we would like to achieve is to let other students know that they are not alone and that there is a large community at Dawson who is willing to support and help them," Kiera said.
Getting involved in this project and participating in campus life has been worth it, according to Kiera: "My time at Dawson has brought me out of my shell. I used to never want to be involved— focusing solely on academia. Being at Dawson made me realize that academics is not the only purpose in life. I now am able get involved, meet new people and make new friends with minimal fear. Those are valuable skills to have learned."
Building a community and sharing her story
Shaneli also gained so much from the project: "I learned a lot about myself, about my values and things I care about, but also the community I built over the past year has been a blessing for me. Not only because now I have a huge network of support, but I get to share my story. I really thought no one wants to hear my story but I have been proven wrong, it makes me proud of our generation and people who want to help us…. Most importantly I learned that you can do anything if you meet the right people, have the right heart and push through obstacles."