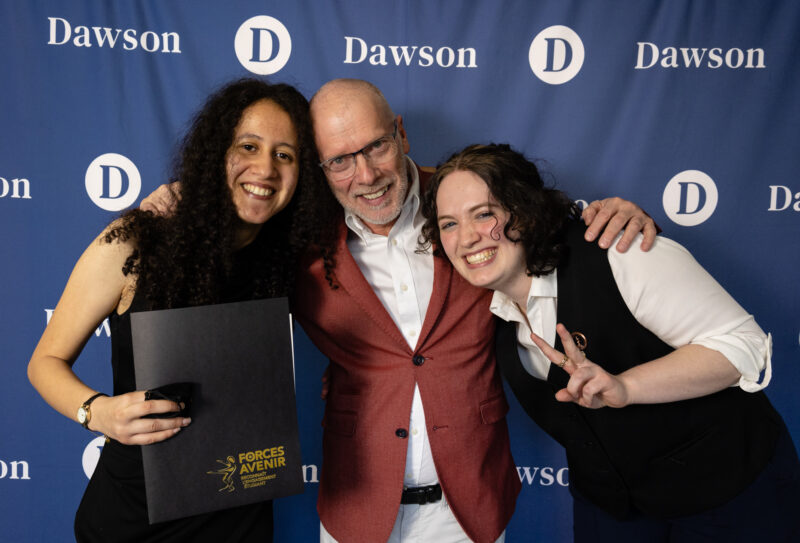 A student community built on sustainability is definitely a Forces Avenir
The student-run Dawson Sustainability Community is committed to supporting Dawson College's award-winning, globally recognized commitment to sustainability.
Led by Environmental Science students Narcisse Hassan and Kaligua Rochon, the students have worked on a variety of projects that support Dawson's goal of promoting sustainability through reconnecting people, communities, and Nature.
On May 4, Narcisse and Kaligua received a Forces Avenir award in the Environment category for their Dawson Sustainability Community project.
Project will live on
"I feel very honoured that we won this award," Kaligua said. "Our volunteers work very hard all year round and it's wonderful that their time and effort is being recognized. CEGEP is not very long for most people, so it is difficult for projects to be maintained once people graduate. Thanks to this award, our legacy is supported, and the Dawson Sustainability Community will live on."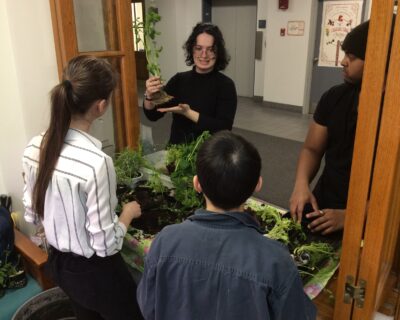 Narcisse believes they have a good chance to win at the provincial level too and this would help expand the project's impact to other schools. "One thing I really like about our projects is that they give students a sense of ownership and pride over their campus. We try to be a model for other schools," she said.
Importance of sharing knowledge beyond Dawson
In a time of climate change, it is very important to support projects like these, said Kaligua. "We learn a lot volunteering but it's important to bring that knowledge with us and share it outside of Dawson so that we can build better, more sustainable communities. We will overcome this not with a few people being perfectly sustainable, but with everyone doing it imperfectly."
Narcisse's favourite part about her time at Dawson is all the people she met and learned from. "I really enjoy the sense of community I've developed. For example, I like that a student taught me how to do the compost run and then I taught other students how to do it. I liked being a mentor and fulfilling past students' legacy."
Campus wetland example
An example of the students' work is the raised marsh that was built last summer as a solution for the heavy metals that flow into the sewer systems because of Dawson's heritage copper rooves. The project was produced in collaboration with the Physical Education Department.
Together, they created an on-campus wetland that would not only retain over 90% of the copper from the roof runoff but also decrease the heat island effect within the parking lot, increase biodiversity, and decrease CO2 emissions.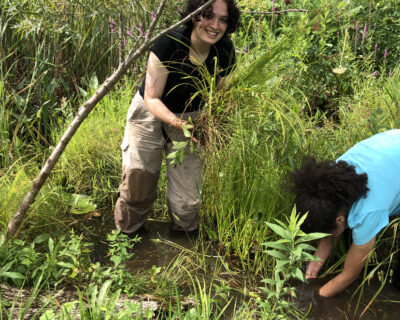 The Dawson Sustainability Community also leads and manages on-campus vegetable gardens, which are planted in the spring and watered, weeded and maintained throughout the garden season. A portion is sold to the Dawson Community and the rest is donated to local shelter Resilience Montreal.
Future plans
Narcisse and Kaligua will be going on to new projects, but the Dawson Sustainability Community will continue growing with the involvement of new students.
Next fall Narcisse will be starting Ecology at Concordia University. "I will be continuing to study the environment and maybe I'll find a club to join," she said.
Kaligua is headed to UBC in Vancouver to study Marine Biology. "I hope to pursue a career in marine ecology and conservation!" they said.
Value of volunteering

"I believe that volunteering leads to so many valuable lessons outside of the classroom. For example, with our project, people can learn to garden, compost, reduce their waste, and I know that all the other projects also have valuable knowledge to share. Volunteering also teaches you a lot about the Dawson community that many people don't know otherwise. We go everywhere in the school, maybe to places you've never been because you don't have class there. It introduces you to people you may never otherwise cross, and you find a community of other like-minded, hard-working people."
Narcisse says that volunteering is really worth it: "Giving up time to volunteer and joining older students who already know more than you can seem a little intimidating but there are so many benefits. You meet a lot of new people so it's easier to make friends, you learn a lot and you feel good about yourself because you did something helpful. There's more to school than just what happens in the classroom."