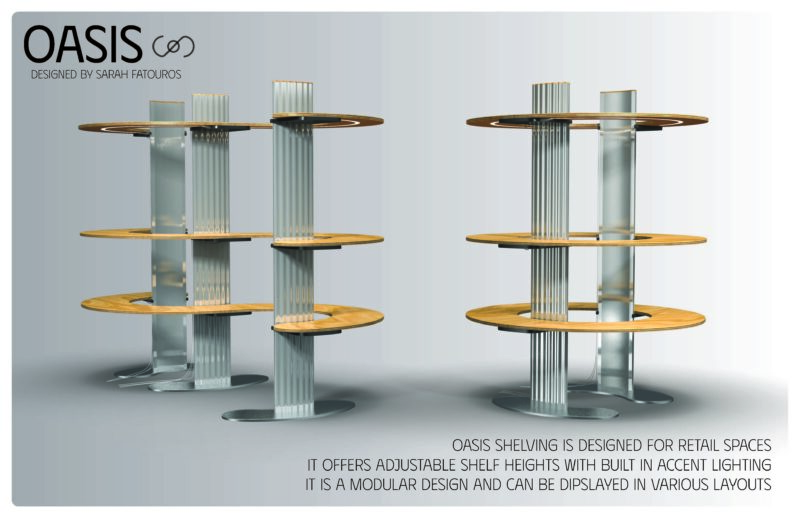 Student comes third in North American aluminum design contest
Third-year Industrial Design student Sarah Fatouros was awarded third place at the Aluminum Extrusion Design contest organized by the ET Foundation, which supports education and research on aluminum extrusion processes and technologies.
Sarah's "Oasis" design is for shelving that is especially designed for retail spaces. It offers adjustable shelf heights with built-in accent lighting. The modular design can be displayed in various layouts.
Six months of work
Oasis began as a project that was assigned at the beginning of the third semester. "The idea was to utilize the aluminum extrusion manufacturing process to create a manufacturable project. I chose to design a shelving unit and we worked on the concept on and off for six months," Sarah said.
"We had numerous development and research phases of the project, and it progress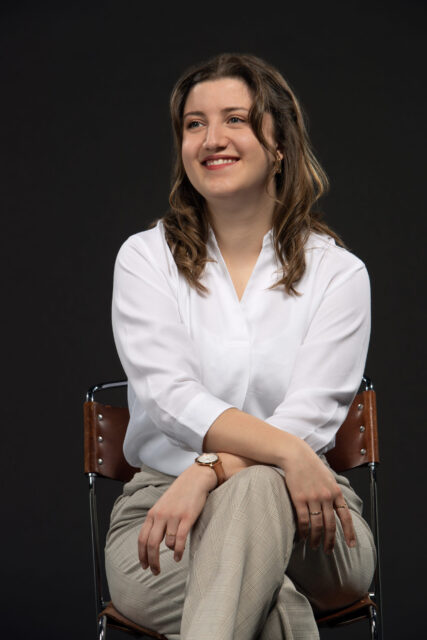 ed several times. I don't believe the concept will ever get manufactured, but it has the potential. Close to the submission of the competition, I was inspired by my CAD software glitching and decided to take the idea in a different and more complex direction. This inspiration is where the curves and modularity of the concept came into play, I am very happy that glitch happened because it made for a much more unique concept!"
Sarah's project was developed in the Product Costing class under the supervision of teacher Michael Santella. Each year third-year Dawson students in Industrial Design develop and design products as a part of an assignment and submit their projects in the contest. Dawson students have won several times.
Great way to get noticed
"For an industrial designer entering the job market, a design prize like this is a great way to get noticed and gain professional recognition and visibility," said Program Coordinator Carlos Carpintero.
Sarah's third place win means she is receiving a $3,000 U.S. scholarship. "I was extremely humbled," she said. "This was not something that I was expecting at all, and I am very grateful! I will be using the money to help pay off my student loans and to take a trip to visit my brother this summer."
Hands-on program
Sarah enjoyed the "hands-on nature of the program and the ability we had to create physical prototypes of our designs. It was a difficult three years, with many long nights."
"I am very excited to be graduating," she says. "I have learned a tremendous amount throughout these past three years. After our upcoming Vernissage, May 24-26, I will be applying for jobs in the industry. I am excited to be able to apply the skills we just learned and to find a creative job that fits what I am looking for."