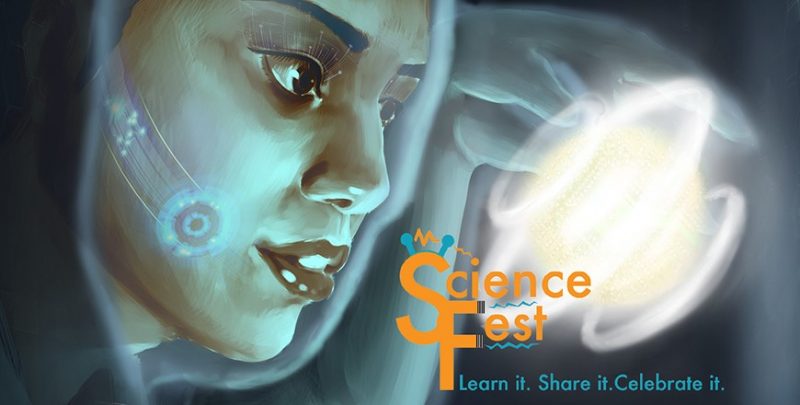 ScienceFest Conference a Virtual Experience for students in 2020
ScienceFest is an annual conference celebrating the knowledge, creativity and passion for learning science of Dawson College students. The conference showcases work, projects, and activities from across the Science, Medical Studies and Engineering (SMSE) programs and in collaboration with initiatives such as SPACE. The usual lively festival of science featuring sessions of talks, poster presentations, live demonstrations and other activities was remade as a virtual Zoom conference for the 6th annual 2020 edition.
The week of May 4 talks, demos and presentations were well attended by students, faculty and external guests.
SPACE presentations 
SPACE students presented co-curricular independent projects on a diverse array of topics: sound visualization; simulations of fractal patterns and how they are found in nature; Arduino sensors and programming for Science Education, environmental monitoring and art-making.
Neuroscience research
Dawson Research in Neuroscience Group students presented ongoing research that study the differences in alpha and theta waves during congruent and incongruent trials for the Stroop test through novel uses of an EEG brain-sensing headband. Research faculty leads, Hélène Nadeau and Sylvia Cox, also animated a dynamic discussion on this work and other questions being investigated by the larger team.
Students from the SPACE 365: Make Things That Matter complementary course presented on topics that address problems around contemporary issues. These included challenges to achieving a zero-waste home, effects of technology on attention, the use of drones for wildlife monitoring, and how to reclaim memory for those impacted by dementia.
Enrichment opportunities
ScienceFest aims to complement specific program requirements, while offering enrichment opportunities and a venue for students to engage in discussion, to receive feedback and to gain recognition for their accomplishments. Also, as an event it aims to inspire students to strive for even higher levels of learning and accomplishment. This was highlighted by the plenary talk given by Dr. Sabrina Leslie of McGill University. Dr. Leslie spoke to this year's SPACE theme of Technique in the context of her work on
Single-molecule microscopy techniques for drug discovery and development: the next level of resolution
After the talk Dr. Leslie fielded questions and generously invited students to reach out with questions in the future about her work at the McGill University Leslie Lab  and ScopeSys.  
All the sessions had a spirit of collegiality and support, a desire to share knowledge and to come together as a scientific community from all levels of education.
Some student Testimonials
"This virtual ScienceFest was a strange experience, very different from presentations I've done in the past. I'm glad to have been able to connect with the scientific community at Dawson in this weird context. It made our projects and our hard work feel so much more real and grounded when presented in front of an audience and not scattered across emails, documents, and online meetings."  
"This was my first time participating in Science Fest, so I don't have any other experience to compare it to, but I really enjoyed it. I would say that social distancing made me want to participate more. In these lonely times where motivation and morale tend to be low, listening to other people's projects was a great way to rekindle my ambition. Although it was not a physical presentation, it was still very inspiring which a lot of people need most right now." 
"I really enjoyed my first experience participating at the ScienceFest. I found it to be quite an enriching experience to be able to present something I was working on, and hope to be able to take part in it again."
 "I am very happy for your decision to organize the Dawson ScienceFest virtually this year and I am so thankful you didn't postpone this event, because it was a valuable experience for all of us to share our projects and ideas and was a great motivation that encouraged us to move forward with strength especially during this challenging time. I think we all needed those silent claps. Thank you very much and I clap loudly for you and your team."