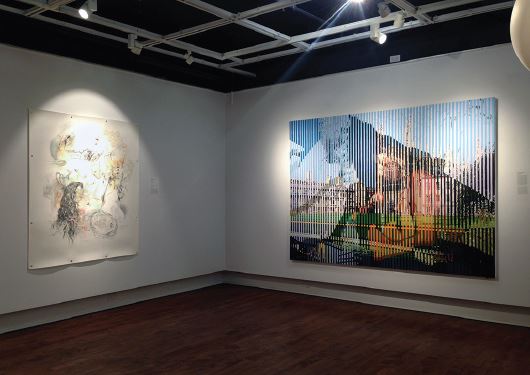 Uncommon art exhibit of Dawson artists in Toronto
Throughout most of August and up to the 31st, an important exhibit featuring the works of Dawson College visual artists graced the walls of the John B. Aird Gallery on Bay Street at Wellesley in Toronto. The artist list reads like a who's who of the College's finest: Claude Arseneault, David Baumflek, Amanda Beattie, Joe Becker, Giuseppe Di Leo, Antonietta Grassi, David Hall, Harlan Johnson, Julianna Joos, Lise-Hélène Larin, Naomi London, Andres Manniste, Lynn Millette, Frank Mulvey, Natalie Olanick, Kristi Ropeleski and Lorraine Simms. Dean of Creative and Applied Arts, Andréa Cole, was the guest speaker at a panel discussion moderated by Natalie Olanick, which included the participation of artists from Le Labo, OCAD, York University and Dawson.
Taking inspiration for this show from the words of colleague Anna Maria Carlevaris, who passed away in December 2012 and who left an indelible mark on those whose lives she touched, Natalie Olanick in preparing the catalogue, quoted her: "Here, we have a gathered pluralism that reveals the intricate textures of a community brought together by circumstance."
Natalie continues: "The qualities of art are elusive, allowing teaching, learning and making to become intertwined and ongoing. Many questions are raised about the value and meaning of art both in the classrooms and in the art works produced by the artists in this exhibition, yet not necessarily for answers. How can art reveal a delicate struggle between personal and public relationships? What is the beauty of chaos? These challenges are put forward both in the classroom and in the presentation of art. Uncommon is a collaboration that addresses these challenges and demonstrates how a diverse group of artists can create a dynamism that engages an expansive audience.
A dedication to art practice and pedagogy has remained a constant at Dawson College. There have been biennials of faculty work for the past 25 years, and student exhibitions at the end of the year, introducing opportunities to see and share works and ideas. These exhibitions, rather than creating a closure or ending, seem to spark further investigations. Uncommon at the John B. Aird Gallery is another example of this group's reflections on their identities as artists/educators; a combination that does not fit into a compact mold, but intersects to reveal the uncommon as part of our social network."
Photo features works by Giuseppe Di Leo (left), Andres Manniste (right) from the most recent Faculty Biennale.