Spam
Spam are unsolicited, usually mass-produced messages. Dawson emails are protected with Microsoft EOP, which also blocks the viruses from email attachments. All emails from the College are duly signed, that we never ask for your password, provide a link to change your password, etc.
Spam goes to your Junk E-mail folder.
In Outlook, right-clicking, 'junk e-mail' on a message will allow you to move back the message to your inbox ('not junk'), add the sender to your personal blocked list, safe list (i.e. never block), or set additional options. If you do set options, we advise you not to choose 'No Automatic Filtering', which would stop the emails going to your junk folder.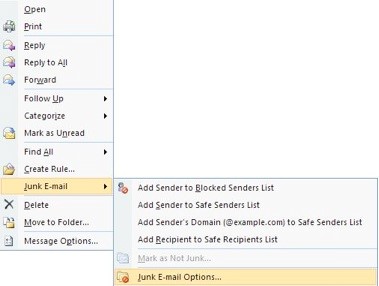 Messages from the Junk folder are deleted after 14 days.