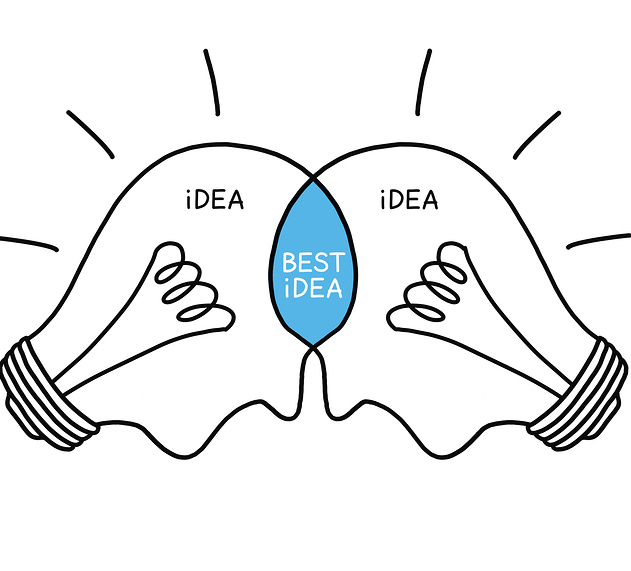 Learning Communities Course Development Update – Winter 2021
Winter 2021 course development is underway in the Learning Communities project, with six teams and a total of twelve teachers working on eleven new courses to be launched in the F21 and W22 semesters.  Working remotely imposes significant constraints on the course design process, just as it does with teaching.  However, as in the second half of last year's winter semester, MS Teams is allowing co-teachers to work on documents asynchronously, meet via video chats, access all the relevant course design resources, and in short, create an almost satisfactory stand-in for in-person collaboration.   
Collaboration between teachers from different departments on the design and delivery of interdisciplinary courses is the very heart of Learning Communities.  Supported by colleagues and by a Dawson-developed course design toolkit, participating teachers work together on learning activities, integrative assignments and synched class schedules aimed at creating connections across disciplines. The goal is to create authentic and innovative learning experiences for students – but the LC teachers are also on their own unique learning trajectory.
"The process of co-designing has revealed to me, once again, the social nature of learning, and how much more exciting and thus motivating it is to work with a partner on a project. As someone who doesn't necessarily excel at systems thinking, the course design materials have also been a welcome and useful guide in helping me to think through how we can work our vast topic into a structure that will be coherent and manageable for both students and ourselves."    – – Andrew Katz (English), SPACE English & Humanities
Each of the six teams is supported by a LC lead with previous experience in developing and co-teaching paired courses: in Science, Jean-François Brière (Physics) and Annie-Hélène Samson (Biology); in Social Science, Lisa Steffen (History); and in Certificates and General Education, Pat Romano (Humanities).  Consulting and troubleshooting with the leads allows project teams to rapidly address challenges and develop workable solutions at each stage of the design process.
"Initially, the idea of organizing and synchronizing two brand new courses (ultrasound physics and ultrasound instrumentation) seemed like an almost overwhelming task.  But thanks to a recommendation from Jean-François Brière to build a shared MIRO whiteboard for course planning, it now actually seems pretty straight forward!  Creating our MIRO board has helped us to clarify the content, order, and prior knowledge for each of the modules and it has allowed us to write clear, concise learning outcomes.  The board also allowed us to identify opportunities for integrative assessments and joint exercises/labs.  This is an amazing, versatile tool that all collaborators should try." – – Diana Glennie (Physics), Physics & Ultrasound Technologies

Interested in learning more about each of the six projects?  Check out the project abstracts below, which offer a concise explanation of the objectives driving the course development work of each team.  And don't hesitate to get in touch with LC project lead Ian MacKenzie if you have questions about how you, your department or your program can get involved in Learning Communities.
Winter 2021 LC Project Teams and Abstracts
I. Physiotherapy Technologies: Anatomy 1 (144-111-DW) + Biology 1 (101-941-DW)
Richard Calve (Biology) and Erika Hasler (Physiotherapy Technologies)
Understanding the human body not only from an anatomical perspective but also a biological one is of the utmost importance for a future health care practitioner.  Biology I and Anatomy I are two integral, foundational courses that introduce Physiotherapy Technologies students to the human body.  Biology I has a focus inherent to the systems of the human body down to their microscopic level of structure, function and organization. Anatomy I on the other hand focuses more on the macroscopic levels of structure, function and organization.  Bridging these contrasting perspectives, our synchronized curriculum will provide learners with a holistic and integrative view of the human body and its systems (e.g. musculoskeletal, nervous, circulatory, etc.) The integration of these two courses will enhance students' ability to contextualize the importance of the structure and function of the human body, providing the the strong foundation required for future courses in the program and for a career as a Physiotherapist Technologist. 
II. DIS Certificate: Foundations in Decolonization & Indigenization – Complementary Contemporary Issues (365-BXP-DW)
Jocelyn Parr (History) and Jennifer Smith (Anthropology)
Indigenous Resilience, Refusal and Resurgence in the face of ongoing colonialism on Turtle Island is centuries old, yet the study of Indigenous-Settler relations has tended to focus on the study of settler systems. This course challenges that tendency by being grounded in lessons taught by Indigenous Knowledge Keepers. This course opens a space for students, both Indigenous and non-Indigenous, to come together and work towards understanding complex truths, collaborating on dynamic projects, and practicing Indigenous ways of learning.  Drawing from multiple fields, including what Indigenous Knowledge Keepers might call land-based-pedagogy or Two-Eyed Seeing, and what Western pedagogies would call disciplines (e.g., anthropology, history, economics, etc.), a variety of topics will be explored. Students will learn about the complexity and differences among Indigenous peoples with a focus on resilience, refusal and resurgence. Many events and materials presented in this class are from Indigenous Knowledge Keepers (elders, artists, activists, leaders etc.) and will take place in the classroom, and beyond the college on the land and in the city. While the content and topics (such as Kanien'kehá:ka perspectives on this region; relationships to plants, animals, lands and waters; and lived histories, languages, art and storytelling) explored in this class will vary year to year, offering a decolonized pedagogical experience will remain the guiding principle. 
III. Law Society Justice Profile: Human Rights, (In)justice, and Democracy in Canada's Past and Present – Canadian History 330-201-DW + Canadian Democracy 385-306-DW
Catherine Braithwaite (History) and Christopher Bourne (Political Science)
Why did certain groups such as Japanese Canadians, Indigenous nations and homosexuals suffer inequitably at the hands of the Canadian state over past centuries? Why were the rights of these individuals repressed by provincial and federal governments historically and how did they achieve justice, equality and conciliation through the passage of such legislation as the Charter of Rights and Freedoms? How does the Canadian state try to balance the emerging human rights and freedoms of the individual with the state's suppression of human rights for the sake of the 'common good? This paired Canadian Democracy and Canadian History course will offer students a learning community where they will explore intersecting themes that examine our unquestioning beliefs in Canadian equality and democratic institutions through particular historical events that have challenged concepts of 'justice'.  Working as a team in this interdisciplinary / transdisciplinary approach, the class will examine the historical and political balance between human rights and democracy,  through the such lens as gender, ethnicity, race, and equality, and question how our ideologies and institutions, have not always lived up to its Canadian promise of equality for all.  In this shared thematic learning community, students will have the opportunity to hear multiple historical voices and examine a variety of political institutions and ideologies, culminating in a capstone historical-legal re-enactment experience allowing them to analyze/assess both the strengths and weaknesses inherent in Canadian democratic society today and yesterday. 
IV. Social Science General Studies: How Can I Know Who I Am? General Psychology (350-101-DW)+ Introduction to Philosophy (340-101-DW)
Susan Finch (Psychology) and Brian Redekopp (Philosophy)
Who am I? What do I want to become?  Finding answers to these questions can involve tremendous pressure: pressure from the judgments of others, pressure to conform, pressure to know now what one's path is going to be, pressure to make the right moral choices in a world in peril, and the anxiety that comes with all of this.  In this paired introduction to Psychology and Philosophy, we will explore how each discipline investigates the self and identity and how the results of these investigations can help you navigate the pressures along the path of self-discovery.  In the Psychology course, we will explore current and historical perspectives in the field, the brain and its many functions, why people behave the way they do, and more – all contributing to answering the all-important question of who you are! (and how to be okay with that). In the Philosophy course, we will explore how philosophers have attempted to answer questions such as the nature of the self (and whether there even is one), the relation between mind and body, how free one is to create one's own identity, the nature and value of self-love, the possibility of altruism, and the existential roots of anxiety.  Together these courses will provide tools to gain a deeper understanding of oneself and to understand, manage and cope with the pressures of navigating life as a young adult in 2021. Class activities will include traditional elements such as lecture, discussion and readings, and also more experiential elements such as nature walks, interviews and journaling. Students will leave the course with the knowledge and the skills in critical thinking to achieve greater peace with themselves in the face of their own particular challenges.  
V. SPACE Certificate: Investigating Story Value(s) – English 603-BXE-MQ + Humanities 101-BXH-MQ
Andrew Katz (English) and Robert Stephens (Humanities)
Why was Tal Al-Mallouhi, a 19-year old Syrian student, imprisoned in 2009 for writing poetry and social commentary on her blog? In the 1970s, when scientific study after study linked the burning of fossil fuels to climate change, why did oil and gas companies embark on a public campaign to question the authority of these studies? Why do #OwnVoices advocates argue for the importance of marginalized people being able to tell their own stories? Why is simply a shared set of facts often such a difficult achievement among groups in conflict with each other? This pairing of Applied English (603-BXE) and Humanities Ethics (345-BXH) titled Investigating Story Value(s), will offer students a learning community where they will explore the territories of both personal and public discourse across the disciplines and will consider the moral implications of the stories we tell.  Students will discover how these territories are marked by good-faith discussion, argument and research as well as by censorship, propaganda and "fake news", and how so much of our discourse is organized by a common device as old as the human species itself: Story. In the English course, we will study the anatomy of story––its basic building blocks and the myriad ways those elements can be put together, with examples that range from fiction to creative non-fiction to news stories.  Meanwhile, in the Humanities course we will examine the ethics of storytelling, and both the conscious and unconscious ways that values shape our perceptions and descriptions of the world. Both courses will also look at some of the larger forces, psychological, social, political and others, that shape how story is used in our world today. For the major integrative assignment, students will research and present a case study that illustrates how story is employed in their particular field of study and analyzes the moral stakes involved. The course will also offer opportunities for students interested in crafting their own stories of various kinds. The course will place special emphasis on how story is used in both common and distinct ways in the Arts and the Sciences, and students will be encouraged to share their major integrative assignments with the Dawson Community through the venues hosted by the SPACE initiative (Sciences Participating with Arts and Culture in Education), such as the SPACE website and end-of-year SPACE showcase.
VI. Ultrasound Technologies: Physics of Medical Ultrasound (203-910-DW) + Ultrasound Instrumentation and Imaging Modalities (142-U13-DW) 
Diana Glennie (Physics), Ania Stosiak (Ultrasound), Monica Lopez (OAD)
Ultrasound imaging is deeply rooted in the physics of sound waves. From choosing the right transducer to interpreting the images, a solid foundation in physics principles will help students to properly apply their skills and critically analyze the results rather than just performing a set of memorized steps.   Students in their first year of Medical Ultrasound Technology will have the opportunity to take their Physics co-requisite simultaneously with their Ultrasound apparatus course. These two courses will be tightly paired, with complementary material and activities presented in a synchronized manner.  Students will be able to use their knowledge of the underlying physics to properly operate the ultrasound apparatus, while learning how to use the machines will provide students with a real-world application of physics principles.  This integration should solidify and enrich student understanding of how physics concepts and ultrasound applications are connected.