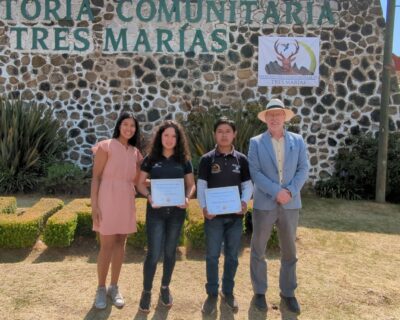 Sustainable Happiness in Mexico
Jennifer de Vera and Chris Adam of the Sustainability Office were in Mexico in late March to see the final projects of students in the Dawson-developed Sustainable Happiness Course at Preparatoria Comunitaria Tres Marías, a senior high school located in the mountains near the city of Cuernavaca. Jenn and Chris were also on hand to give the students their SH certificates at the school's 25th anniversary.
Many students gave things away as part of their SH final project, Jenn said. Noteworthy projects included a grandfather-granddaughter intergenerational gardening project with a garden herb give-away, a succulent plant give-away with pots that were painted with positive quotes, and a mushroom identification project on campus. "They use what they have and the resources of the land," Jenn said. She came home inspired by the Mexicans' warmth and authentic community and reported that the Mexican partners are eager to continue their projects and their partnership with Dawson.