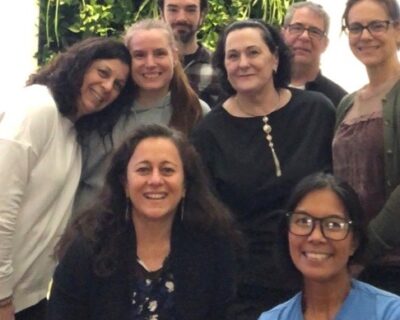 Six employees complete Sustainable Happiness course
Six employees at Dawson and seven employees at John Abbott College successfully completed this semester's Employee Sustainable Happiness 24-hour certificate. Jennifer de Vera (Sustainability Office) and Azra Khan (Human Resources) facilitated the course and Dawson lent Jenn to lead the John Abbott course with Shannon Coulter-Low.
The non-credit course developed at Dawson, now being taught around the world, aims to help people live their best lives by taking care of themselves so they can in turn take care of others and Nature.
Sustainable Happiness is a major benefit to Dawson employees who are given work time with the approval of a manager to take the course. Each participant must complete a final project.
Jenn reports that this year's projects included:
Benefits of talking to strangers
Mapping where ingredients from meals come from and how to improve
"Reel it in" upcycling VHS tapes from the library through creative projects
Laminating all English Exit Exam signs for annual reuse and adding the biophilic design of live plants to the gym during the exam
Creating a zen area in the Campus Life and Leadership (CLL) office, and doing daily actions for happiness with CLL staff and student volunteers