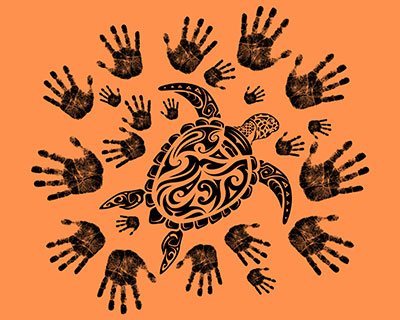 First National Day for Truth and Reconciliation is Thursday, Sept. 30
Dawson students and employees will experience the first National Day for Truth and Reconciliation at Dawson College on Thursday, Sept. 30.
A poster in the Upper Atrium explains the significance of the day to the Dawson community:
"Wearing orange on Sept. 30 is more than taking part in a popular event. It's a solemn act to remember the 150,000+ children who were taken from their families and forced to attend residential school and the thousands of children who died there.
"Wearing orange is also about committing to take action in acknowledgement of the crimes of the past and in recognition of the continuing disgraceful treatment of First Nations, Métis and Inuit communities by the settler state of Canada. Lastly, the colour orange was chosen because of Phyllis Webstad's story, and to symbolize the joy, beauty and rich variety of cultures and art that First Nations, Métis and Inuit people enjoy."
The sign and a pledge station have been set up in the Upper Atrium by a Dawson working group that includes Student Services staff, faculty, the Peace Centre, the Dawson Student Union and others. The working group has come up with a program of events and has curated resources to share with students and employees.
The new national day used to be known as Orange Shirt Day, which has been marked for the past several years at Dawson and across Canada.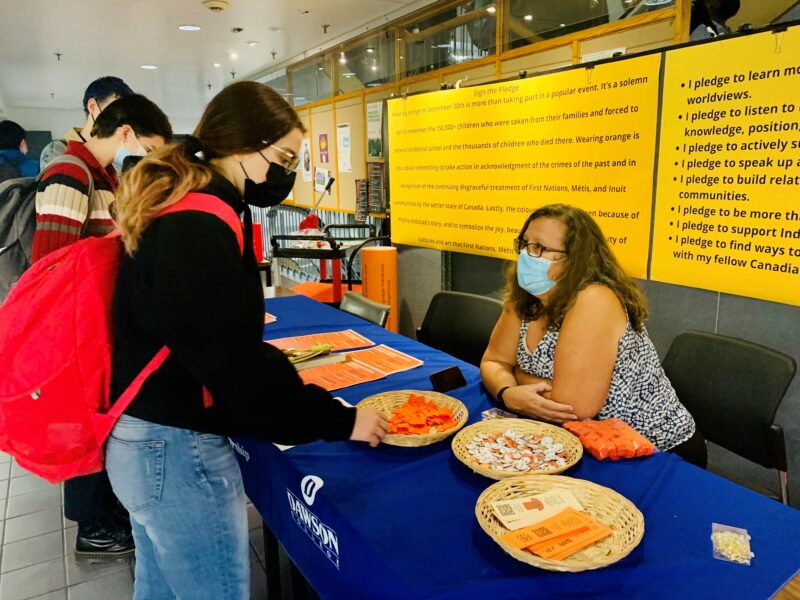 All students and employees are invited to participate:
Pledge:
I pledge to learn more about First Nations, Inuit and Metis peoples' knowledge and worldviews.
I pledge to listen to First Nations, Inuit and Metis community voices and to use my knowledge, position and privileges to take action.
I pledge to actively support Indigenous resurgence.
I pledge to speak up as an ally and co-resistor.
I pledge to build relationships with Indigenous people and Indigenous communities.
I pledge to be more than just aware, I pledge to act.
I pledge to support Indigenous peoples' fight to stop climate change
I pledge to find ways to address the Indigenous-related myths and misconceptions with my fellow Canadians.
Note
Design concept by Jordan Jerome-Pitre (Class of 2021, Social Science: Law, Society and Justice)