Orange Shirt Day Events
These events are part of a semester-long series to bring awareness to the legacy of colonization across Turtle Island, the necessity of institutional decolonization, as well as Indigenous resurgence and joy.  The planning committee would like to thank the DSU and our Indigenous colleagues who graciously guided and consulted us through the development process of these events.
What is Orange Shirt Day?
Schedule of events leading up to September 30th.
I Pledge & Take Action
September 26 – 29th 10:00 a.m. – 4:00 p.m. Upper Atrium
Students will be encouraged to pledge their ongoing education and allyship with Indigenous peoples across Turtle Island.  Sign the pledge, pick up a button, and wear your orange shirt.
Workshops
Land Acknowledgements- September 22nd, Virtual Session, 1:00 – 2:15 p.m.
Kanien'keha:ka Elder Dr. Donna Kahérakwas Goodleaf discusses land acknowledgements.
Click to register:https://arlo.dawsoncollege.qc.ca/register?sgid=969420ca83cc46acafe63b19e6c517bc
Native Women's Shelter Second Stage Housing and Indigenous Leadership, September 26th 11:30 a.m. – 12:30 p.m., Virtual Session 
Nakuset, Executive Director of the Native Women's Shelter will discuss the project and issues.  Click to register. https://arlo.dawsoncollege.qc.ca/register?sgid=79e4526481714b35b2005b9be055138d
Decolonizing the Library/Decolonize the Catalogue: Tuesday, September 27th, 10:30 a.m. – 11:30 a.m. in the library computer lab (6C.2).
The library's Technical Services team invites interested students, faculty, and staff to join us for a behind-the-scenes look at our efforts to "Decolonize the Catalogue." This initiative is rooted in a commitment to identify and remove outdated and problematic subject headings in our library's classification scheme (The Library of Congress), and to replace them with more inclusive and accurate headings. This session will share the inner workings of our project, which is guided by the work of other large-scale initiatives.  Click to register. https://arlo.dawsoncollege.qc.ca/register?sgid=87388c576f0a46c69ac2fd3e3ad416d8
Truth before Reconciliation: acknowledging the colonial history of Dawson College, Thursday, September 29th, 10:00 a.m. – 11:30 a.m. in room 3F.43
The history of Dawson's land and Indigenous Peoples' with Dr Ben Lander, history teacher and co-founder of the Dawson College Oral History Project.  Click to register. https://arlo.dawsoncollege.qc.ca/register?sgid=bce2181ac6ef45faab08979f25766528
Blanket Exercise
The Blanket exercise is an interactive activity that brings the group through the history of Indigenous peoples in Canada. It is an activity that enables an active reflection of our own history as well as our obligations as settlers within that history. When fully engaged, it can be a truly transformative experience. This activity can work effectively within the context of the classroom with your students as well as your own department (faculty or other areas of service). To book a Blanket Exercise for your students please contact Diana Rice, drice@dawsoncollege.qc.ca. 
Volunteers Needed-A way of taking action
Students needed to volunteer at the table to give out information, collect pledges, make buttons, and sell shirts. Sign up here:
https://forms.office.com/Pages/ResponsePage.aspx?id=emq2trv7uEKnxXEjQglO75zxrzrr8IhKq3tD16f4WwpUQzVNOTlHSkRUMlFaREZUUTE3RTQ0SjlUTy4u
Montreal Community Events
March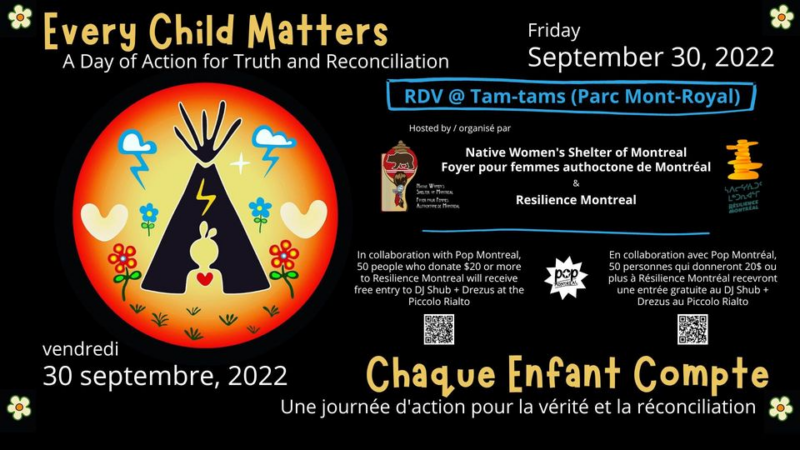 Friday, September 30th, there will be a March sponsored by the Native Women's Shelter and Resilience Montreal.  This is a great way for students and employees to participate in solidarity action to support Indigenous students, employees, and Indigenous communities.
DETAILED DESCRIPTION:
On September 30th, we will be holding our 2nd annual march to commemorate the National Day for Truth and Reconciliation. In honour of the children discovered in mass graves, residential school survivors and their families we invite all community members, organizations, and students to join us and learn from our powerful speakers. We will also hold a moment of silence in honour of those who recently passed away at James Smith Cree Nation, Saskatchewan.
We encourage you to wear an orange shirt and bring your drums.
The confirmed speakers so far are Ellen Gabriel (Katsi'tsakwas), Grand Chief Kahsennenhawe Sky-Deer, Chief Jessica Lazare, Ben Geboe, Steve McComber, Elisapie Isaac, "Generational Warriors" Lara Kramer with daughter Ruby Caldwell Kramer and Autumn Godwin with daughter Clara Godwin, and Maya Cousineau Mollen.
Here is the route for the September 30th march, that begins at 1:00pm:
Gathering point around the Monument George-Etienne-Cartier.
– Walk south on Parc to Sherbrooke. – Turn right onto Sherbrooke. – Continue along Sherbrooke until Metcalfe. – Turn left onto Metcalfe. – Continue south on Metcalfe until Boulevard René-Lévesque – Gather around the former Macdonald Monument at Place du Canada, between Metcalfe and Peel, south of René-Lévesque.
We will be walking along Milton where many homeless people gather, so we encourage you to bring food, clothing and other items (socks, gift cards) to offer to those in need.
The Native Women's Shelter of Montreal is proud to partner with POP Montreal. The first 50 people to donate a minimum of $20 to Resilience Montreal will receive a free ticket to DJ Shub and Drezus show later that evening at Piccolo Rialto.https://www.resiliencemontreal.com/en/donate
We are also requesting that no campaigning politicians attend and that no election signs are carried as this is not the time or place for them.