Opus Card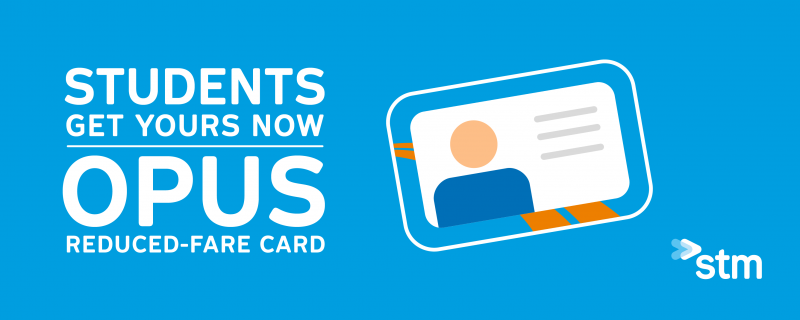 Note
Buy Online
If you meet the criteria below, you can get your card online through Omnivox as of Sunday, August 01, 2021.
**Please note for new students, you must obtain your student I.D. first as that is the picture that will be used for your OPUS card.**
To request your reduce fare student OPUS card, you have to:
Be a full-time student
Finalized your course registration
Have your Dawson Student ID card – the OPUS card uses your ID card photo

NOTE: Student ID pictures are available to OPUS after 9 a.m. the day after they are taken.

Have a Quebec mailing address
Be under 65 years old.
Payment
Only Visa and Mastercard credit cards with Quebec mailing addresses will be accepted for payment.
Cost of the OPUS card is $15.
Procedure
To order your card using the Omnivox Mobile Application, select:

To order your card using a computer, log into the MyDawson Portal and click on the link Reduced fare OPUS Card under My Omnivox Services
Follow the instructions.
The photo on your student card will be used for your OPUS card. The card will be mailed to your home within seven business days.
If you are unable to do it online, you have two other options to get your OPUS card: by mail or at the STM photo studio (1755 Berri Street). For the photo studio, you must make an appointment first.
For more information
Please refer to the following link: http://www.stm.info/en/students
Contact the STM
Email: https://www.stm.info/en/info/customer-service/contact-us
Telephone: 514 786-4636, option 8, option 6, then option 1
Monday to Friday: 7:00 a.m. to 7:30 p.m.
Saturdays, Sundays and holidays: 8:30 a.m. to 4:30 p.m.
This includes graduates of the current semester, students with a minimum of 4 courses or 12 hours per week.
You must obtain the form in person.  Please visit the Campus Life & Leadership office room 2E.6.