International Women's Day 2021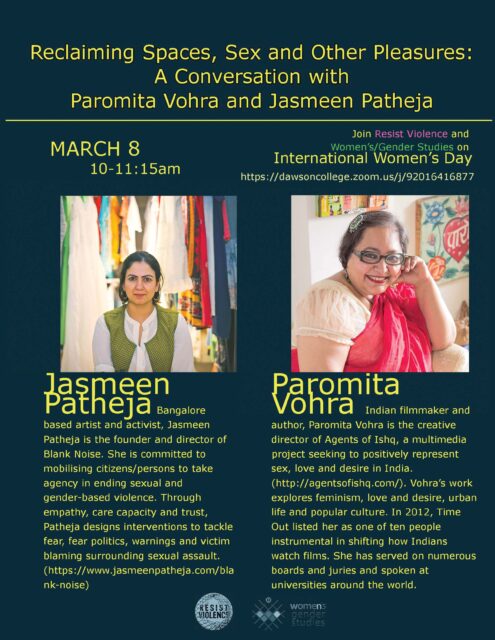 Wonderful, inspiring, motivating… these were just a few of the superlatives that the more than 90 students and faculty from the Women's/Gender Studies Community shared after attending the International Women's Day event, Reclaiming Spaces, Sex and Other Pleasures. Our talk with artist-activists Jasmeen Patheja and Paromita Vohra was hosted by Cin/Com's Dipti Gupta on behalf of Dawson's Resist Violence Project and W/GS Coordinator Johanne Rabbat. The generosity of both speakers was clear from the start, as they were joining us after a full day of IWD activities in India. But this was revealed even more though the creativity, inclusivity, compassion, and joy they bring to their work and displayed to us so powerfully. Reflecting back, perhaps it was precisely this combination that all of us found so motivating.
For those of you who missed this wonderful event, we encourage you to watch the video and to take the time to check out the work of both websites.
jasmeenpatheja.com/blank-noise