MIO
Description
MIO (Messaging in Omnivox) is a convenient way to send messages to other members of MyDawson. Individual students or teachers can be contacted, students from a class or a program, employees from a department, etc. It is integrated with Lea.
Instructions
Sending a message to students in a class
To send new message to student(s) or teacher(s), click on Compose a message, then Add/Modify Recipients.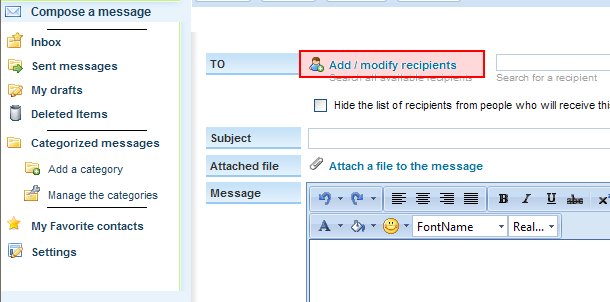 On the next screen, click on one or many students from my classes.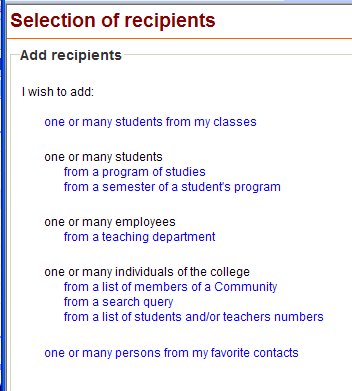 The next screen shows a list of your current classes on the left-hand side , and your current selection (which will be initially empty) on the right-hand side. You can either display the list for a given class, and select them one by one, or add the whole class (this option is not available to students).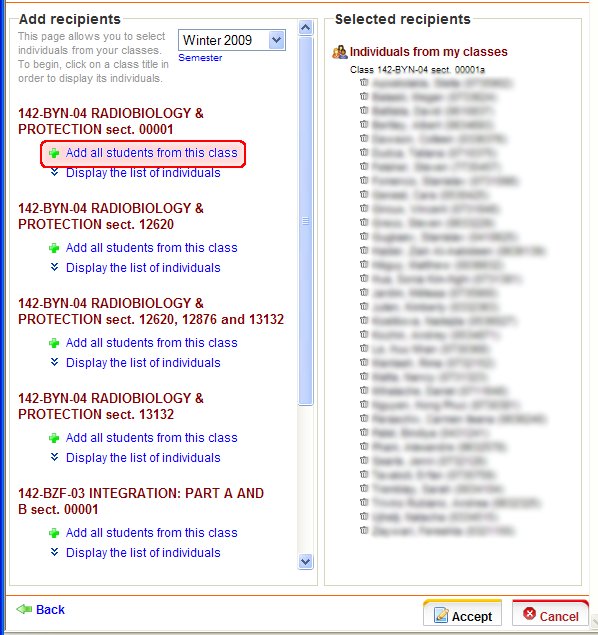 When you're done, click Accept.
Sending a message to students in a program of studies
Proceed similarly, this time choosing students from a program of studies. You amy see several programs listed, especially if your program has sub-profiles or has changed number.
In the Compose window, you might want to tick the Hide list of recipients so your students will not see their peers.
Please note only program coordinators have access to this ; if you believe you are missing this functionality or that you do not get your program(s), please contact the helpdesk.
My Favorite contacts
The favorite contacts is a quick way to select people to whom you often write to. To add people to your list, click on My Favorite contacts and then Add a favorite contact.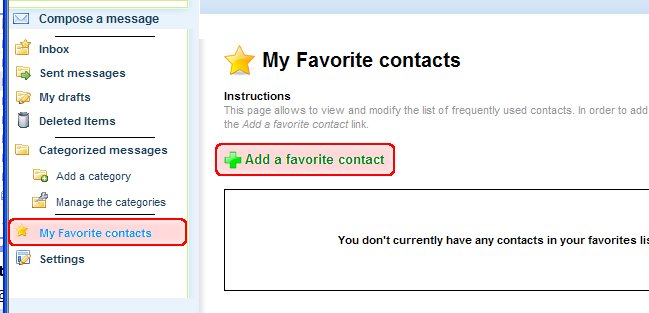 You then get a selection screen similar to the one when composing a message. Note that even if you select groups such as a class list, they will still be added as individual contacts (i.e. each student would be a contact, as opposed to the whole class).
FAQ
No. MIO messages can only be sent from within the portal (including Lea and Omnivox). However you can be notified at your email address whenever you receive a MIO message. To do so, click on Settings and enter your email address under Email notification.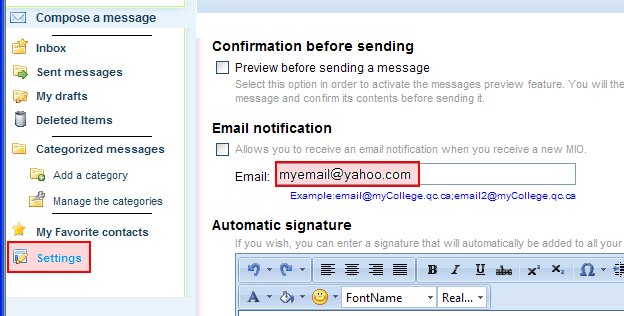 The message list in your Sent Messages summarizes how many recipients have read the message (e.g. "8/11"). By clicking on the message you can see details (e.g. "Read on 2009-11-04").