Student Trip to China in 2016
Two Interior Design teachers accompanied five Interior Design students to visit and interact with students & teachers in Environmental Design Departments in 5 Colleges or Universities in 5 different cities in China. The cities were Wuhan, Suzhou, Hangzhou, Shanghai, and Beijing.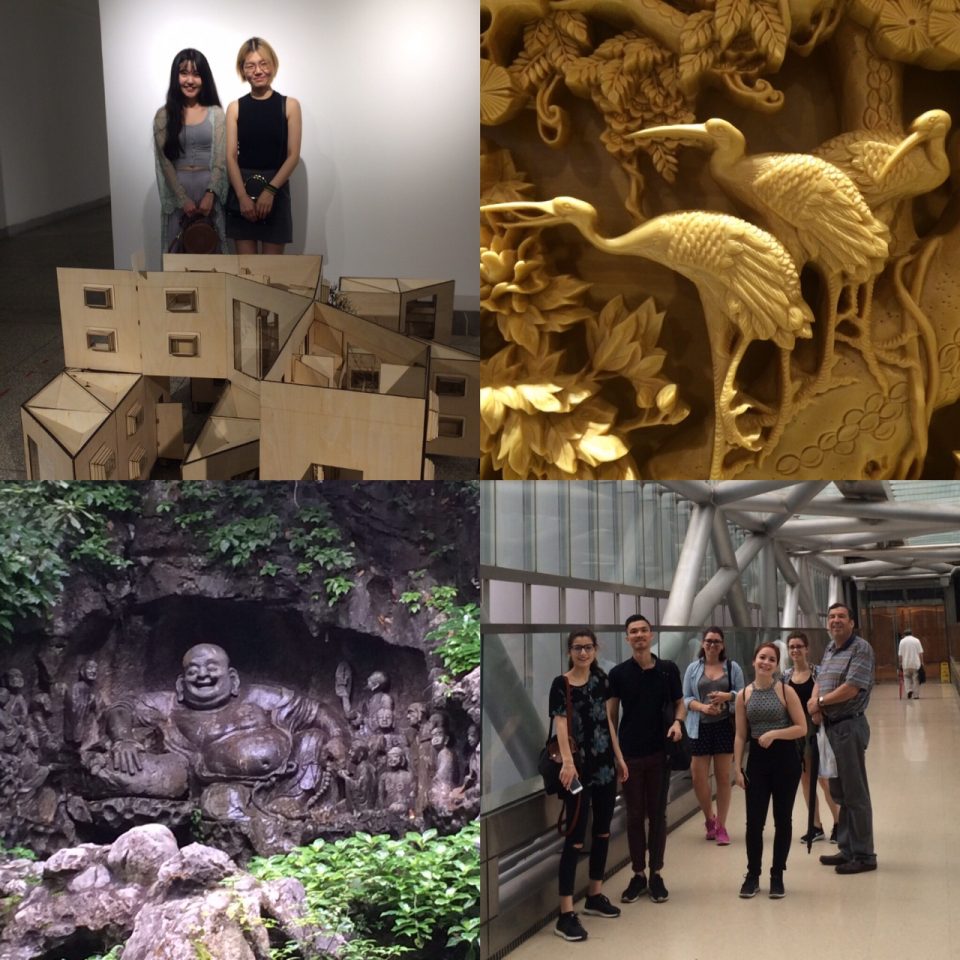 The focus of the 3 week trip was meeting and sharing educational issues with Environmental Design teachers and students at: Beijing Normal University, Hubei Institute of Art (Wuhan), Zhejiang University of Technology (Hangzhou), Suzhou Art & Design Technical Institute, and Shanghai Normal University. Additional activities were related to visiting cultural and historic sites, and contemporary art exhibitions, interiors, and architecture, such as:
Beijing: the Great Wall at Mutianyu, the Summer Palace, Tiananmen Square, the National Theatre, the 798 Art District, and the newer downtown areas; Wuhan: the Yellow Crane Tower, East Lake Easy Park, and East Lake, newer downtown area; Shanghai: Urban Planning Institute, the Shanghai Museum, the Museum of Science & Technology, the French Quarter, the Bund, and Pudong; Hangzhou: West Lake, Buddhist temples, and Longmen Ancient Water Town, art galleries, tea house, a well-known book store, and the newer downtown area; Suzhou: the Humble Administrator's Garden, the Suzhou Museum, and the Old Canal district.
At the Hubei Institute of Art in Wuhan, the graduating students in Environmental Design in 10 teams of 2 to 12 students, presented their final 8 month studio work to us. After the presentations, we met with many department heads and visited their various department studios, with student activities in ceramics, print making, metal work, and photography.
At Zhejiang University of Technology in Hangzhou Scott Millar gave a 2 hour lecture on Montreal's Interior Pedestrian Network, the largest in the world. In attendance was the Department head of Environmental Design, some teachers and approx. 100 of their students. After the lecture, Mark Lipson and our students came on stage and we had an informative question and answer period. While there were language and cultural differences, what became obvious between our schools was the common passion for education and design.
At Suzhou Art & Design Technical Institute we viewed the vernissage work of graduating Interior Design, Industrial Design, Graphic Design, Ceramics, Furniture Design, and Photography.
At Shanghai Normal University we all took a Calligraphy and Chinese painting class.
At the historic Longmen Ancient Water Town we had a round table discussion with the Governor and other town officials who wanted feedback after we toured their village.