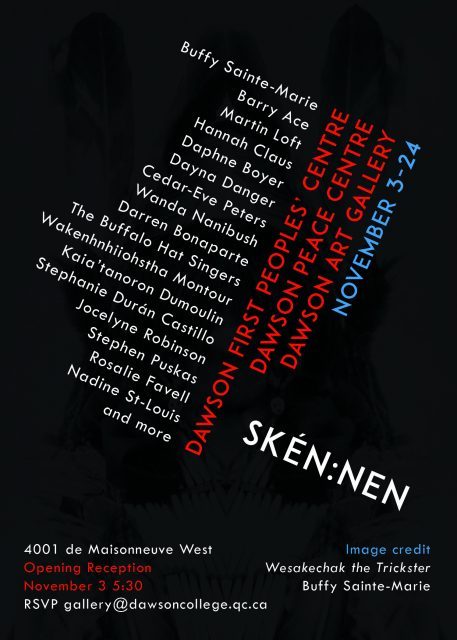 SKÉN:NEN : Peace & Decolonization
The Dawson College Warren G Flowers Gallery, First Peoples' Centre and the Peace Centre present Peace & Decolonization from November 3rd – 24th.
WHAT IS SKÉN:NEN?
The Dawson College Art Gallery, Peace Centre, and First Peoples' Centre proudly invite you to the opening cocktail of Skén:nen, a month-long, action-packed, whirlwind exhibition and event series at Montreal's Dawson College. The exhibition is on view from November 3 until November 24.
WHY SKÉN:NEN?
Skén:nen is one of the many ways in which Dawson College is honouring the Calls to Action of the Truth and Reconciliation Commission.
WHO IS SKÉN:NEN?
Skén:nen will showcase art made by First Nation artists from across Canada. Works from artists such as Buffy Sainte-Marie, Barry Ace, Daphne Boyer and many more will be displayed. Skén:nen is curated and coordinated by Dawson College's Orenda Boucher-Curotte, Diana Rice, and Olivier Pierre Joseph Forgues.
Media inquiries and other questions at gallery@dawsoncollege.qc.ca
Schedule
Skén:nen Vernissage
November 3, 5:30 pm in the Warren G Flowers Gallery, Dawson College – Open to the public.
Please join us for a very special evening that will feature Indigenous drummers, dancers and a tribute to artist Annie Pootoogook by Hannah Claus.
The Art of StoryTelling
November 9, 6:30 pm, room 5B.16 – Open to the public.
f(l)ight: Freedom Sings Leanne Simpson, Dechinta Centre for Research & Learning in Denendeh (NWT).
Legendary activist, author, poet and academic Leanne Simpson will kick off in a four part series related to the Peace & Decolonization exhibit entitled The Art of Storytelling. As for many cultures around the world narrative and oral history are a key component to communicating identity and a community's history. It is also a means of decolonization and a place to start a conversation about change. Leanne will be presenting a new work from her album f(l)ight: Freedom Sings and discussing her artistic process
Silence in our Museums: Indigenous art, curation and identity (Round Table Discussion)
November 10, 2:00 pm – 4:00 pm in room 5B.16 – Open to the public.
On November 10th, Wanda Nanibush, Art Gallery of Ontario, Nadine St Louis, Ashukan Cultural Centre, Dayna Danger (Artist) and Melissa Mollen-Dupuis (artist and Quebec Idle no More) moderated by Stephan Puskas will engage in a round-table discussion concerning how museums continue to colonize and silence the voices of Indigenous artists by not employing Indigenous curators to oversee the curation Indigenous art exhibits. Questions of identity reclamation, the role of art in reconciliation as well as the need for a diversity of curators in our nation's museums to more adequately represent the contemporary face of Canada.
Breaking the War Metaphor: Decoloniality as Processing Peace
November 11, 10:15 am -11:15, Dawson College, 5B.16 Open to the Public.
Dr. Catriona Hanley, Director of Peace and Justice Studies, University of Loyola, Maryland
Our world culture is stuck on war: the war on drugs, war on female rights, culture war, war in Afghanistan, WWII, warring hypotheses, etc. Colonialism is one aspect of a Hobbesian calculus describing a fantasy of masculine power, wherein each struggles against all. From that perspective, decoloniality is impossible in fact because unnatural in practice. We suffer from a paucity of imagination in describing power relationships. Current historical and sociological research show that nonviolence is the norm within societies; furthermore, nonviolent revolutions are much more successful than wars of violence. Peace is the path to decolonization. Catriona Hanley is an Associate Professor of Philosophy at Loyola University Maryland (Baltimore, USA). Director of Peace and Justice Studies, she worked with colleagues to develop a cross-disciplinary academic minor in that field, which should come to fruition in Spring of 2017
Mask Making Workshop
November 17th & 24, 11:00 am – 1:00 pm, Oliver's – For Dawson Community Only
Facilitated by local artist Lauren McComber
Discover how you shaped and live your identity in this unique workshop experience. Facilitated by a local Indigenous artist, participants will engage in a two part session where they will use Indigenous pedagogy to talk about identity. What is revealed in the talking circle can be expressed in the creation of the mask. Participants must be aware that there is limited space available in this workshop and to complete the mask it will take two sessions.
The Art of StoryTelling: The Wampum Belt Chronicles
November 23, 11:00 am – 12:30 pm, room 5B.16 – Open to the public.
Darren Bonaparte
Darren Bonaparte has studied Haudenosaunee history and culture for more than a quarter century.His research began with his own community in Akwesasne, and quickly expanded to the Mohawk Nation, Haudenosaunee Confederacy, The St. Lawrence Iroquoians and the Seven Nations of Canada. He will present his spell-binding performance of the Wampum Belt, sharing his love and his knowledge of Indigenous history, knowledge and culture. For more on Darren please visit his website