Be part of the healthcare team as a medical laboratory technologist!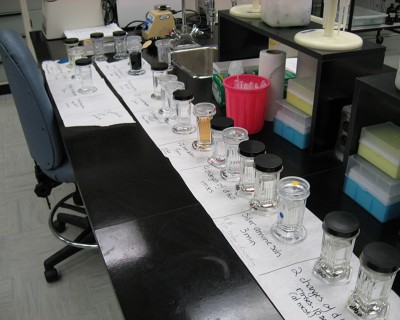 This three-year program is designed to give you the theoretical knowledge and practical skills of a medical technologist. As healthcare professionals, medical technologists contribute to the prevention, diagnosis, and treatment of disease by providing laboratory services to physicians and other clients.
This broad training in many specialties – namely, hematology, biochemistry, histology, microbiology, and transfusion science – leads to very good employment opportunities locally, and all over Canada. Many jobs are available in hospitals, research centers, clinics, and private laboratories. Pharmaceutical companies and biotechnology research laboratories also have roles for medical technologists.
Questions about admissions, eligibility and program fees? Read our FAQ. We also have a detailed program summary.
Program Objectives
Upon completion of the program, you will have acquired the professional knowledge, skills and attitudes necessary to fulfill the job requirements of an entry-level medical laboratory technologist in a clinical diagnostic laboratory. Specifically, graduates will be able to:
procure specimens from a variety of sources
perform a broad spectrum of laboratory analyses in different environments (clinical, research, point-of-care)
use knowledge, problem-solving, and critical thinking skills
apply health and safety practices to protect yourself, patients, co-workers, and the environment.
interact and communicate effectively and professionally, both orally and in writing in English and in French
demonstrate the attitudes and ethical behaviour essential to professional practice that promote excellence in healthcare and maintain principles of quality assurance.
Learn more about career opportunities for medical technologies.
Griffith/Biomedical Laboratory Technology/Bachelor of Medical Laboratory Science, Gold Coast

University: Griffith
Program: Biomedical Laboratory Technology
Degree: Bachelor of Medical Laboratory Science, Gold Coast
Details:

160/320 transfer credits, with a completion time of 4 semesters at Griffith.​
Health and Safety
As health care professionals, medical technologists have a professional responsibility to follow the protocol established by the Department of Public Health for health care workers regarding the prevention of infections. The protocol includes recommendations for immunization against transmissible infections as well screening for tuberculosis. This protocol is extended to students interning in a health care establishment. Information is given to students at the time of their admission into the Program. These vaccinations are provided free of charge by the CLSC for students in health care fields.
As well, students will be handling potentially infectious materials during the course of the program and throughout their career. Although not compulsory, students should be immunized against Hepatitis B. This is also free of charge through the CLSC.
There may be some health related conditions that may have an impact on, or possibly prevent, future employment in this profession. It is important for students to discuss this with their doctor before beginning the program.
Any student who becomes pregnant during the course of the program should inform the program coordinator/chairperson. According to Program policy, there may be some lab activities or courses which pregnant students should avoid for their own safety.
Language Skills: English and French
The ability to communicate both orally and in writing in both English and French are essential skills for students and future health professionals. All students are required to pass an English Exit Exam as a DEC requirement. As well, students who have been educated outside of Quebec will have to pass a French exam by l'Office de la langue française in order to become a member of the professional order and to be eligible to work as a medical technologist in the province of Quebec. Students who have placed below the College level in either French or English must take additional non-credit courses in order to upgrade their language skills before taking any credit courses.