Be part of the healthcare team as a medical laboratory technologist!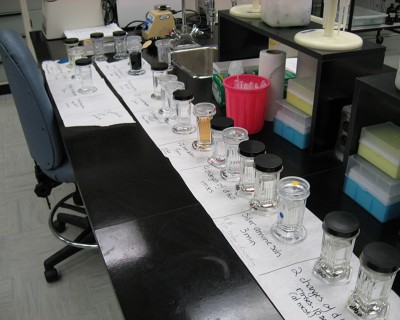 This three-year program is designed to give you the theoretical knowledge and practical skills of a medical technologist. As healthcare professionals, medical technologists contribute to the prevention, diagnosis, and treatment of disease by providing laboratory services to physicians and other clients.
This broad training in many specialties – namely, hematology, biochemistry, histology, microbiology, and transfusion science – leads to very good employment opportunities locally, and all over Canada. Many jobs are available in hospitals, research centers, clinics, and private laboratories. Pharmaceutical companies and biotechnology research laboratories also have roles for medical technologists.
Questions about admissions, eligibility and program fees? Read our FAQ. We also have a detailed program summary.
Learn more about career opportunities for medical technologies.
Exit Profile
Graduates of the Biomedical Laboratory Technology Program emerge as thoughtful and responsible citizens and will have acquired the professional skills, attitudes, knowledge, and judgment necessary for entry into the workplace.
Upon successful completion of the Biomedical Laboratory Technology program, graduates will be able to:
apply health and safety practices to protect self, patients, co-workers, and the environment;
maintain principles of responsible practice and ethical behaviors;
procure specimens from a variety of sources and perform delegated acts according to the regulations governing the profession;
perform routine and specialized biochemical analyses required in the areas of hemostasis, hematology, biochemistry, microbiology, transfusion medicine and molecular biology, correlate laboratory results with clinical conditions, and initiate follow-up testing;
use knowledge, problem-solving and critical thinking skills to ensure reliable results which are both accurate and precise according to established quality control protocols and standards, troubleshoot anomalies in laboratory results, and initiate corrective actions;
adapt to evolving technologies and techniques in biomedical analysis;
transfer acquired skills and knowledge across biomedical laboratories;
recognize the contribution of laboratory services in promoting individual and public health;
work effectively as part of a team including both laboratory staff and other health care professionals;
analyze works in the humanities emanating from different historical periods and movements on the topics of knowledge, world views and ethics;
understand literature as an exploration of human experience and effectively articulate ideas, concepts and techniques in English;
effectively communicate in French orally and in writing in a professional context;
take responsibility for sustaining personal health and well-being.
Language Skills: English and French
The ability to communicate both orally and in writing in both English and French are essential skills for students and future health professionals. All students are required to pass an English Exit Exam as a DEC requirement. As well, students who have been educated outside of Quebec will have to pass a French exam by l'Office de la langue française in order to become a member of the professional order and to be eligible to work as a medical technologist in the province of Quebec. Students who have placed below the College level in either French or English must take additional non-credit courses in order to upgrade their language skills before taking any credit courses.