Artists In Bloom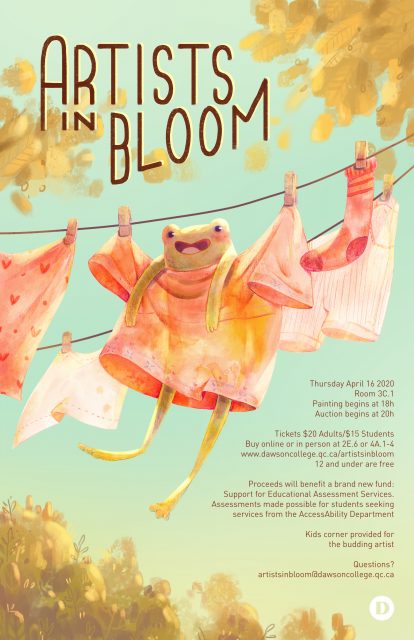 Artists in Bloom is an annual event held at Dawson College through which the Blue Ring Society, the ambassador organization of Dawson students, raises funds for a charitable cause. Over the past 23 years, the event has raised around $150,000 for a variety of causes. This year all the funds raised will benefit the Support for Educational Assessment Services Fund (SEAS). Assessments made possible for students requiring services from the AccessAbility Department.
The AccessAbility department offers a variety of services to meet the needs of students with documented disabilities and for whom the disability significantly and persistently impacts their learning.  Services are available for students registered in day or evening credit courses.
They provide reasonable accommodations for students with a diagnosis of hearing, visual, motor or organic impairments, learning disabilities, neurological and/or mental health disorders.  Services are also offered to students who, due to an accident or illness, will require temporary support.
The event puts on display over two dozen talented student-artists in the Fine Arts, 3D Animation and Illustration departments who create new works of art before a live audience over a two-hour period, which are then auctioned off.
Artists in Bloom begins at 6 p.m. in the 3rd Floor Cafeteria (3C.1) with the artists bringing blank canvasses to life as guests mingle, eat and drink while the creative process unfolds before their eyes.
At 8 p.m., the gavel drops as The Beat 92.5 radio host Donna Saker starts the auction of the paintings. Advance tickets to the event are $20 for adults and $15 for students. Children 12 and under are free. Everyone is welcome. Tickets are available online or at the door.
For questions please contact artistsinbloom@dawsoncollege.qc.ca.
Buy Tickets
Tickets on sale March 3, 2020.
Location
Dawson College – Room 3C.1
Date of Event
Thursday, April 16, 2020 @ 6:00 p.m.
Entrances
3040 Sherbrooke West
4001 De Maisonneuve O.
Atwater Metro
Parking (Limited)
4011 De Maisonneuve O. (Just before Wood Avenue)