Artists In Bloom 2023 – Live artistry auction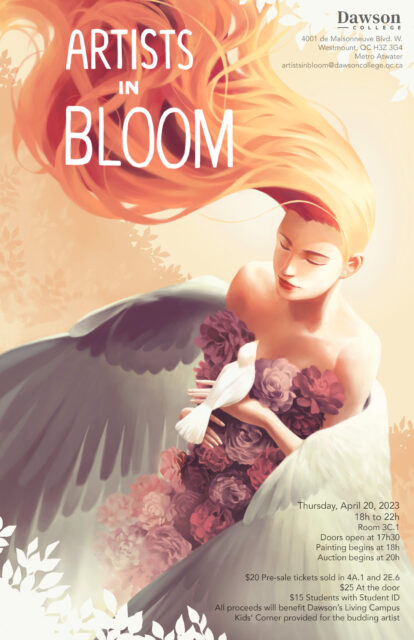 Thank you to everyone who came out to support the talented student artists at the 25th edition of Artists in Bloom. The event raised about $12,000 which will go to support Dawson's sustainability activities under the Living Campus fund.
Congratulations to all the talented artists in the 3D Animation and Computer Generated, Visual Arts and Illustration Programs who created works of art over a two-hour period, putting on a fantastic live artistry show.
Special thank you to radio host Donna Saker of The Beat 92.5 for auctioning off the beautiful artwork.
Until April 28, you can still support our cause by buying digital prints created by Illustration students online. Prices range from $5 to $50 depending on size.
Art for sustainability
Artists in Bloom is an annual event held at Dawson which raises funds for a charitable cause. Over the past 24 years, the event has raised around $158,000 for a variety of causes.
This year, all proceeds will benefit the Sustainability team which furthers the College's vision of well-being for all and guides the Dawson community as it strives to implement a bold strategic goal: To be a leading post-secondary institution in promoting sustainability in all its endeavours.
Sustainable Dawson – Living Campus is involved in many projects college-wide such as:
Sustainable Dawson recognizes Nature as a restorative agent and a catalyst that can increase the literacy of all kinds.
The Sustainable Campuses project, a partnership between Mexico and Dawson College, has produced much research.
Hosting Sustainable Happiness (SH) Certificate programs and continuing to develop strategies to integrate this concept into curricula.
Received the gold level for leadership in sustainability from the Association for the Advancement of Sustainability in Higher Education (AASHE) and excellence in the Cégep Vert program.
Dawson is among the first institutions of higher education to commit to taking the necessary actions to become Carbon Neutral Forever.
For questions, please contact artistsinbloom@dawsoncollege.qc.ca.