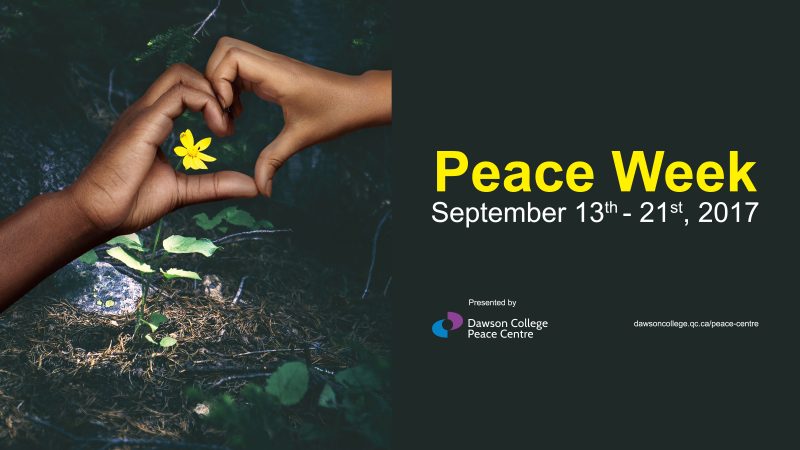 Peace Week 2017
In 2017 the Peace Centre is proud to renew Peace Week and phase II of Projects for Peace.  All activities will be linked to the Dawson College Peace Centre's 2017-18 theme: Sustainable Peace: The Future of Our Well-Being, Environment and Institutions.  This year's Peace Week Schedule includes: daily meditation & yoga; Keynote Speaker Dr. Alaa Murabit, notably 2017 Forbes Top 30 under 30, one of 17 advocates for the UN Sustainable Development Goals and a renowned peacebuilder in the area of women's rights, health and education;  in collaboration with the Humanities & Public Life conference  our second speaker is a local entrepreneur, founder and CEO of Sacred Fire Productions, Nadine St Louis & Green Party of Quebec Leader Alex Tyrell;  an Ethical Consumerism workshop; a Pop-Up Art Hive that will explore art as expression and therapy co-hosted and facilitated by the Museum of Fine Arts and the Art Hives and so much more! Full schedule of activities here.
In a move to celebrate Dawson College's commitment to Peace, the Dawson College Peace Centre launched Peace Week in 2016. The week began on September 13th, the 10th anniversary of the shooting, and ran through to September 21st, the international day of peace. Activities were linked to the Peace Centre 2016-17 theme, Reconciliation and Restoration.  The week featured two prominent speakers, Dr. Samantha Nutt and Dr. Abdennour Bidar as well an inaugural initiative entitled Projects for Peace.  Projects for Peace is an initiative that seeks to imbue community level peacebuilding as a critical part of the Dawson culture through projects that had practical objectives with concrete deliverables and brought together staff, faculty, management and students. Click here for more info
Projects for Peace is back! This year the Urban Restoration-Wildlife Habitat Project is open for Volunteers from the whole Dawson Community! Help increase, biodiversity on campus, meeting our new College strategic goals in sustainability and build positive peaceful relationships with your fellow Dawsonites. Project opportunities are:
Work & in the Three Sister's Garden (Conrod's courtyard), harvesting, planting and maintaining the site.
Learn about urban agricultural movements in the Theatre Garden, pollinators and help to harvest and maintain the gardens
Continue the work started last year in the Conrod's Wildlife Habitat. Several micro-habitats will be completed which will be used as living labs, encouraging pollinators and bird & insect biodiversity on campus.
Learn about and work in the Peace Garden!
To learn more about Peace Week or Projects for Peace contact peacecentre@dawsoncollege.qc.ca