New Student Checklist
Congratulations on your admission to Dawson College. We look forward to meeting you! To get you started on the right foot, we have created a handy checklist to guide you as a new student.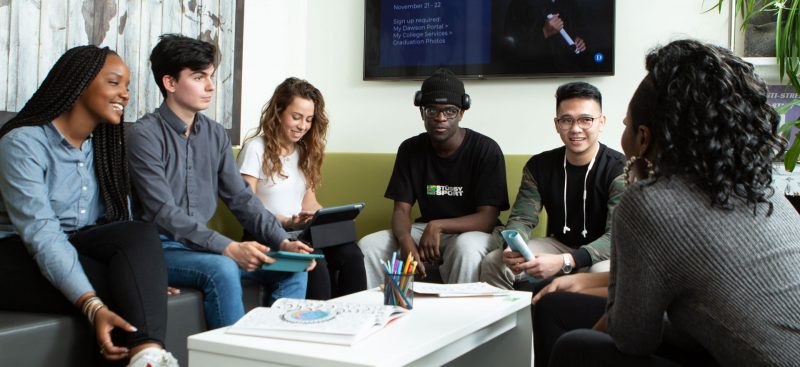 Prior to the Start of Classes…
Be sure to access your My Dawson Portal/Omnivox regularly to get the latest information for new students at Dawson. If you haven't connected yet, enter "how to access Omnivox" in the search field of the Dawson website.
Review your program handbook. Log into your My Dawson Portal and select My College Services > Program Handbook.
Watch the How to Register and the First Semester Academic Orientation videos on the Academic Advising web page at dawsoncollege.qc.ca/academic-advising/video-resources.
Look out for an invitation to your Welcome Day information session!
Welcome Day
Your Welcome Day will be on August 17 or 18, 2023. Please see your Welcome Day invitation (on MyDawson Portal) for specific details or check out the schedule here (https://www.dawsoncollege.qc.ca/services/student-services/welcome-days). Hyperlink on "here".
During your Welcome Day, you'll have an opportunity to meet your dean, learn about services offered, familiarize yourself with the layout of the College and meet people from your program.
The typical Welcome Day schedule includes attending a welcome presentation, followed by a program-specific presentation. Once completed, you'll be invited to take our self-guided tour!
Don't forget to stop at the tables in the Upper Atrium to check out our athletic wear for sale, meet
Dawson Student Union representatives, and get your ice cream.
Dawson Student ID Card
Upload your picture and a proof of identification (passport, driver's license, medical card or similar
documents) into the My Dawson Portal (Omnivox), either via the app or using a desktop. This
picture will be used for both your digital and physical Dawson Student ID card.
Once you have uploaded your picture, you can ask for your Dawson Student ID card to be printed
starting 3 weeks after the semester has begun by going to the printshop in room 2E.01.
For more information, click here!
Lockers
You can rent a locker for the academic year via the My Dawson Portal (Omnivox). Click on "Lockers" under the heading "My Omnivox Services", located on the left side of your screen.

Please note there is a mandatory, non-refundable $10.00 locker administration fee per person. It

must be paid online when reserving your locker using a credit card.
For more information, click here.
Books
You must select your required books & manuals through the online Bookstore Course List prior to coming to the Bookstore. To reserve or purchase items: go to the My Dawson Portal (Omnivox) and click on "Bookstore Course List" under the heading "My College Services". You will be able to review and select your items and when available purchase eBook versions directly online.
Once your request is submitted, you will be prompted to make a bookstore appointment or you can do so later via the My Dawson Portal (Omnivox) by clicking on "Bookstore Appointment" under the heading "My College Services". Bookstore appointments occur only during the first 3 weeks of the semester, after which we accept walk-ins. When you come to pick-up your book order, have a printed copy of your order and your Dawson Student ID card or number readily available.
For more information, click here.
Mandatory Sexual Violence Prevention Online Training
All post-secondary students are mandated by the Quebec government to complete an online
sexual violence prevention training.
Dawson College has created an online training which is informative and easy to complete. To
access this training enter the My Dawson Portal (Omnivox) and click on "Sexual Violence
Prevention Training" under the heading "Student Services", located on the left side of your screen.
This link will lead you to the training on Moodle, where you can choose to complete it in English or in
French.
The deadline to complete this training is October 16, 2023. After this date, you risk being locked out of your student accounts.
Financial Aid
The Financial Aid Department provides a variety of assistance to students in need who are enrolled
full-time at Dawson College including: Quebec Loan and Bursaries application assistance,
budgeting tips, and a food bank.
Please e-mail Yvonne Dudley or send her a MIO to book an appointment for financial help.
To start an online application for Quebec Loans and Bursaries, click here.
Communication Systems at Dawson College
E-Mail: Check your personal e-mail for important messages from the college until you are registered
for courses. Once registered, you will receive a Dawson College e-mail address, which will be used
by the college to communicate with you. Please check your e-mail daily.
Admission Portal: When you applied at Dawson, you were asked to activate your admission portal
to monitor the status of your application and accept your offer of admissions. Other uses of this
portal include requesting a program transfer and checking on your student status.
My Dawson Portal, called Omnivox: When you were admitted to the college, you were sent a link
to your admission package and you were instructed to activate your My Dawson Portal account.
Omnivox will be an important tool for you. It contains information such as:

Deadlines and important dates;
News and information about what's happening at the college;
Details about college processes such as registration;
Your progress chart; and
A phone/e-mail directory
Omnivox also serves as a means of communication:
Teachers may send you messages and documents via the "What's New?" section.
Messaging in Omnivox (MIO) is an internal messaging system that allows you and other
Dawson community members to communicate. To send a MIO to someone, you only need
their name.
Omnivox Communities are used to provide information to and from specific sub-groups
within the College.
Surveys: Your voice matters and we solicit your opinion through surveys found in the
"What's new?" section.
Many college processes are handled through Omnivox, including but not limited to the following:
Registration for courses each semester;
Course changes;
Course drops after the first semester (students in their first semester must speak to an advisor
to drop a course);
Attendance validation; and
Paying fees.
The Omnivox App for mobile phones is available for download and is most useful for reading MIOs, checking grades and looking up course cancellations. Download your app here: Apple Store, Google Play.
 LEA, the Omnivox Classroom or Moodle is where you can:

Download assignments;
Check due dates and grades;
View course documents; and
Submit assignments.

Network Account: To access WiFi, computers and network devices, you need to create a network
account. Do so by entering My Dawson Portal (Omnivox), then clicking on "My Dawson Life". A
drop-down menu will appear. Click on "Network Account". Your username is your student number.
Passwords: Please choose complex passwords and keep them private.