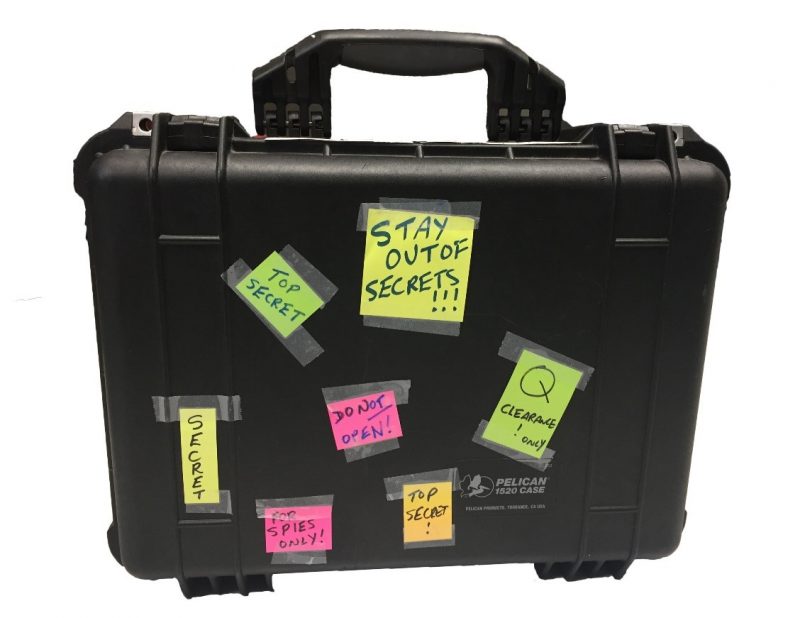 Escape into learning
It began with me lugging a huge, black, plastic case into my General Psychology classroom. It was covered with brightly coloured sticky notes bearing the same tantalizing message: TOP SECRET: DO NOT OPEN!
As soon as I stepped into the classroom, the massive case grabbed my students' attention. The noise levels in the room lowered immediately. I placed it on my desk and went about my preparations for the day. Soon, I would reveal the mystery and the way to solve it.
General Psychology is a class that all Social Science students must take at Dawson. As a result, my students do not necessarily have a focus on a career in psychology. They have many different interests, and don't typically consider that psychology can help them learn about themselves – and give them insights into future classes, relationships, jobs and life in general. They don't always, or immediately, care about psychology.
I have learned to be very active in my classes in order to keep student attention, as we focus on big topics and a fair amount of new vocabulary. Sometimes I have to be artful to help them see how much they enjoy learning – about themselves and others.
Translating the escape room experience
In 2016, I entered my first real "escape room," and immediately I loved everything about the process. Escape rooms tend to follow a template that involves teams of people paying to get out of a themed "locked space" within a certain amount of time – often an hour. For fun – and more – success involves deciphering clues, solving puzzles, cracking codes, being stumped and coming to insights. Or not! For people who have never been to one, I encourage you to look for them in your area.
Since that first time, I have explored different sorts of digital and real life escape rooms. I am not always successful, but I always have a lot of fun. It's especially interesting to experience these games with a team of people I know, but not too well. So many hidden talents to discover! Several times, I have gone with children, who proved to be invaluable members of the group. One of our regular Psychology Department "Faculty Adventures" took place at a local escape room. I don't think we made it out within the allotted time, but who cares? I learned more about a great group of people with whom I work but don't always have the opportunity to spend free time.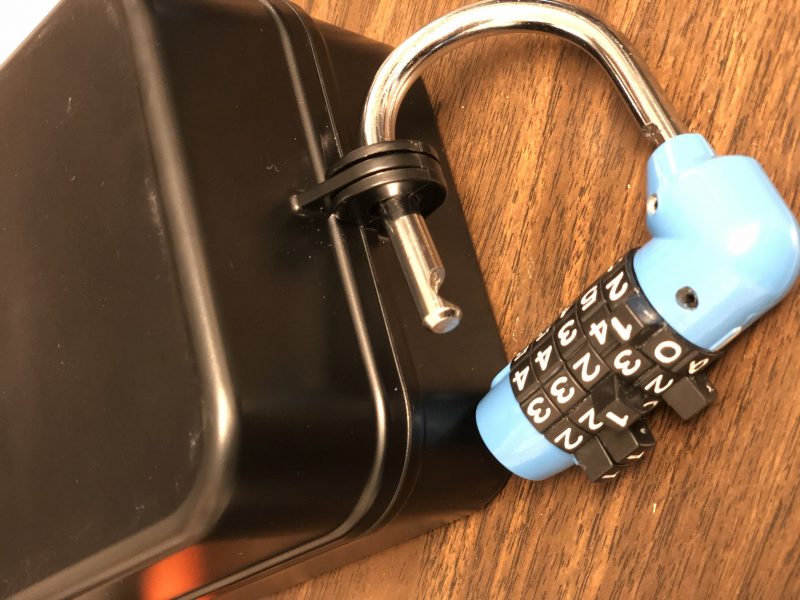 I wanted to translate the fantastic experience of an escape room into a pedagogical activity for my students, but I knew I couldn't confine them. Therefore, I designed an educational "escape-into-learning" game built around the concept of breaking into something – in this case, a massive, black, plastic camera case borrowed from a friend.
My challenge? I had to incorporate the day's lecture and readings into the game. I made up elaborate pairings of letters and numbers on my computer, devised clues and mechanisms for solving puzzles in mirror script and created my own cipher wheels. I created vocabulary codes to crack, invented definitions in riddles, and designed the process of breaking into a series of file folders with several key, combination and letter locks to arrive at THE OPENING of the Top Secret Case. With prizes.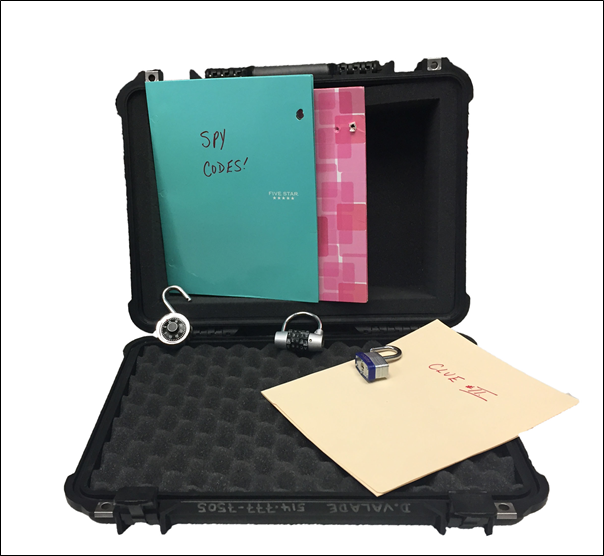 Ultimately, a group of three to five students figure out everything they need to open the case and discover their reward: coupons giving them a bonus mark on the next exam! Occasionally, they might find an extra coupon, requiring them to come quickly to a consensus about whom they should award it to in the class. Controversy!
At the end of the activity, students discuss the experience of completing the different tasks together, using a question and answer sheet which I give to each of the teams. I finish the class with lectures on problem-solving strategies, group work dynamics and motivation. The total time for the activity is 30-45 minutes, depending on how complicated I have made the game and how much time we have.
Every time I have done this activity, the student feedback has been positive. It is exciting for me too, as I have the opportunity to watch their wheels turn fast and be a part of their engaged learning in a different way.
A multi-tool for all my classes
But I had a problem: I don't teach just General Psychology. Like other CEGEP instructors, I do not always teach the same classes every semester. Depending on the semester, I could be lecturing in Social Psychology, Cognitive Psychology or Research Methods. I realized, however, that with a bit of tinkering and substitutions of page numbers, definitions and vocabulary, I could retool my "escape case" into a multi-tool for all my classes. And so that's what I did, and have done for a few years.
I mentioned my escape case to colleagues from time to time, and many were curious to try it out, but it is a cumbersome load to borrow, and there is a bit of instruction on how to make the activity run smoothly. Yet, my educational escape was such a fun and effective activity! How could I share it easily? It would have to be digitized, but I didn't have the resources for such a project. I pondered the project for another year and then learned that SALTISE funds small grants for the development of educational activities. Maybe there was a way after all.
I decided to apply for the grant in collaboration with my colleague and office mate Jessica Chambers, a specialist in Child Development. We forged ahead on an application with the following interconnected goals:
To develop a functional, adaptable digital/analog Educational Escape Classroom game prototype that is easy to use, fun to play, collaborative, challenging and educationally effective.
To create adaptable, printable templates for use by all teachers regardless of subject, discipline or student learning level – with straightforward digital interfaces.
Jessica Chambers
When Shelagh brought up her idea about this project, I immediately wanted to join. I had also been to escape rooms before and had loved the interactive experience. Furthermore, I had seen her "Top Secret" black plastic case make its way in and out of the office and, like her students, was just as intrigued. One day, I simply asked to know what it was all about.
Knowing that Shelagh was incorporating such a fun way of active learning, teamwork and problem solving into one activity excited me. I am constantly looking for new ways to encourage students to be engaged in the classroom and to participate. I created my first escape game in the classroom using handouts and locked boxes. It went very smoothly and everyone was excited about the concept. Following that success, I went ahead and did it in another class, where the experience was just as fun, as students worked together to solve problems based on class materials. Since my students have commented that this type of interaction helps them firmly implant the concepts in their minds, much better than simply listening to a review lecture, I know that educational escape learning works.
Creating a digital game prototype
At this point, Shelagh and I applied for the mini-grant with SALTISE, which we were awarded in the spring of 2018. Getting the funds turned out to be just the first part of our journey. We put out a call for coding prodigies and, for the past six months, have been working with two genius programmers from Dawson's Computer Science Department – Lara Mezirovsky and Nick Apanian – to translate our imaginings into code. Working with Lara and Nick has been an interesting experience, as I am not the best when it comes to technology and I had not previously appreciated the work that goes into computer applications.
It has been amazing to see our ideas become real. Lara and Nick are clearly exceptional at creating magic. To tell you the truth, we have absolutely no clue what happens on the back-end of digital game development. Where our expertise comes into play is being able to use this new tool for all our classes, and being able to create, save, modify, reuse and share it with other teachers at Dawson College and beyond.
A customized "Secret Dawson Educational Escape" kit
Every escape room has a story. We decided that the storyline for the first of what we hope will be many games, will be about our beautiful building itself. Originally a convent, the Congrégation de Notre-Dame Mother House has a long and fascinating history. Completed in 1908, it is the perfect location for "Secret Dawson," a game that melds our storied past with the newest in educational technologies.
The progress thus far has been impressive and, by December, we ought to be ready for field-testing. Right now, we envisage an interface that will look like this: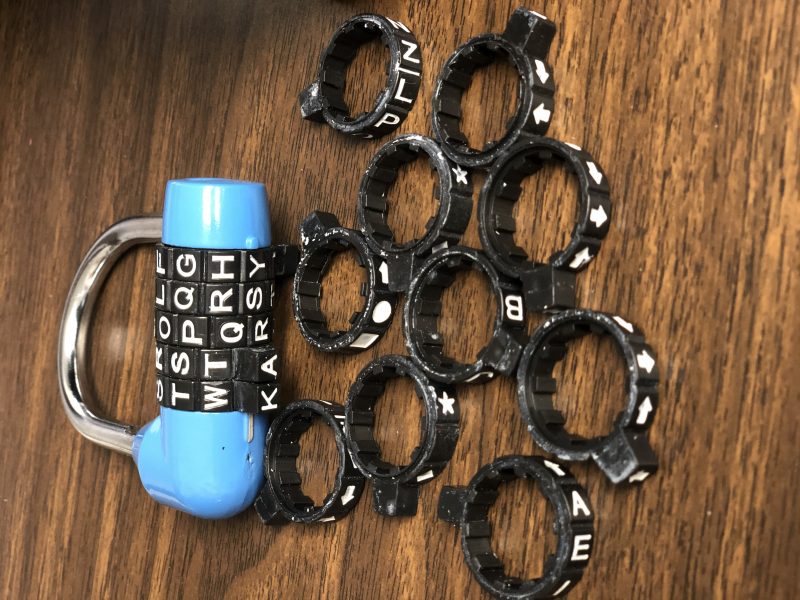 Teachers will log into Omnivox  and find a link to the "CryptIQ Classroom Educational Escape" in the menu. They will then scroll through a series of simple prompts to enter information, such as the number of students in their class; the vocabulary they want to include; definitions, formulas, explanations and page numbers; as well as the props they will bring to the game. The choice of possible props is endless: perhaps a single combination lock and a paper bag; maybe two key locks and a backpack; or a letter lock, a bike lock and a briefcase. Whatever the instructor brings to the game can be incorporated and, the more props there are, the longer and more complicated the game can be. Once these steps are completed, the magic starts.
The game is automatically generated and the instructor immediately receives a customized "Secret Dawson Educational Escape" kit, consisting of a series of downloadable documents. These files include all necessary instructions, student work sheets, clues, puzzles, cipher wheels and prize certificates. A few minutes to print the materials, organize and practise, and teachers are on their way to a fun new way of promoting active learning – no matter what the course is.
We look forward to connecting with other teachers and instructors who would like to find out more about CryptIQ Classroom's Educational Escape: Secret Dawson. Check back with us in 2020.