Design principles:
Provide students with the ideal environment for collaborative learning.
Put SMART Boards in the hands of students, not just the teacher.
Design student tables to maximize interaction between group members and the SMART Boards without distracting from peer interactions.
Network SMART Boards (SMART Sync) to allow for a variety of teaching/learning modes.
Reflections on our design and SMART Boards:
SMART Boards are more powerful learning tools than they are powerful teaching tools, especially when used by a group.
The act of getting up in front of a SMART Board and visibly manipulating items/documents/artifacts (as opposed to using a mouse or keyboard) offers unique and powerful learning opportunities.
Technology often serves to isolate – that's the nature of personal computing devices – but multi-touch, shared SMART Boards offer an opportunity to leverage the benefits of computer environments while in a group.
Room Design/Layout
SMART Boards not only fill the space, they help to form it – just as they help to form the teaching and learning that happens in the room.
The tables are custom designed to maximize interaction with the SMART Boards without interfering with peer interactions.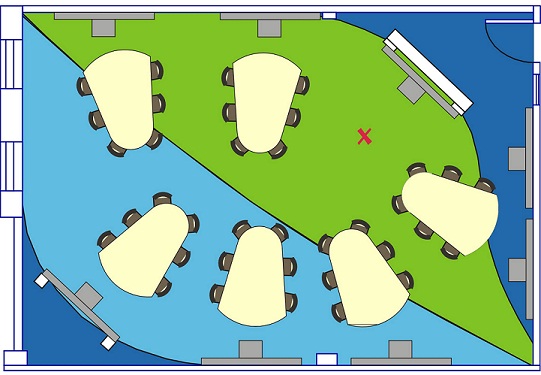 Student desks are clear (nothing to get in the way of sharing, talking, writing notes etc.) and all SMART Boards are visible at a glance.
Student engagement is obvious in this environment.
The environment allows teachers to easily see what groups are doing and to interact with them as needed.