Understanding sex, gender and sexual orientation diversity with Julien R. Johnson
Julien is a young trans person who has been working for trans rights and with trans youth for the past seven years. He has been the Support Services Coordinator and Intervention Worker for Project 10 for over three years and is the person behind Dawson's three multi-stall gender-neutral bathrooms — a historical first for colleges in Quebec.
As part of Support Staff Training Day, Julien led a workshop facilitating an understanding of the diversity of gender, sex and sexual orientation to promote the well-being of the entire Dawson community, especially those experiencing multiple and intersecting oppressions.
"I think it's important to continue a legacy of education for Dawson staff by community members and community organizations," Julien told the Dawson Communications Office. "These conversations provide greater safety and inclusion in the community and ripples across lots of people's lives beyond school as well."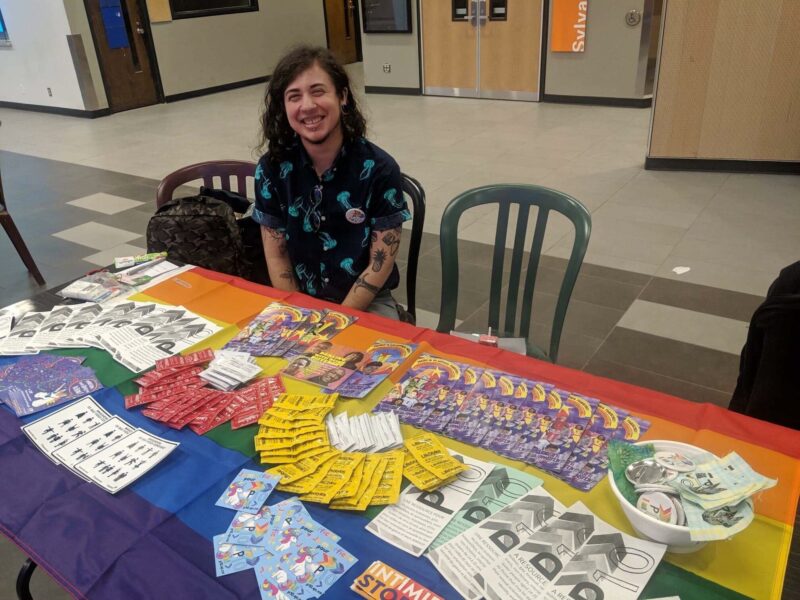 About Project 10
Project 10 is a youth organization that through advocacy, education and using a harm reduction and anti-oppressive approach, aims to boost the empowerment of lesbian, gay, bisexual, transgender, transsexual, two-spirit, intersex and questioning people (2LGBTQ+) aged 14-25 in Montreal. The organization offers drop-ins, active listening sessions, gender-affirming gear and consultations, and much more with an emphasis on mental and sexual well-being, providing the tools and support that allow people to explore their identities on their own terms.
Language is invented
During his workshop at Dawson, Julien put an emphasis on the fact that language is invented, and the importance of understanding terminology to help create a welcoming, open, and safe environment that promotes school perseverance and the success of 2LGBTQ+ people.
He also reminded us that language is constantly evolving and that some terms that refer to sexual orientations and gender identity may be outdated and offensive. The workshop took participants through a presentation of various terms paired with historical context.
Gender expression does not equal orientation
"People make assumptions about the way that people dress all the time, but gender expressions sometimes differ from what people might assume about that person," said Julien.
Someone's sexual orientation refers to someone's attraction, which is separate from someone's hormonal makeup referring to the physical parts of a person.
Using the proper pronouns
The list of pronouns is constantly changing as new ones emerge. There are no "male/female" pronouns. All pronouns can be used for any gender and are gender-neutral.
It is always recommended to ask people their pronouns instead of assuming and risk misgendering them. However, do not ask for their "preferred pronounces" as this implies that using the correct pronouns for the person is optional. Simply ask: "What are your pronouns?"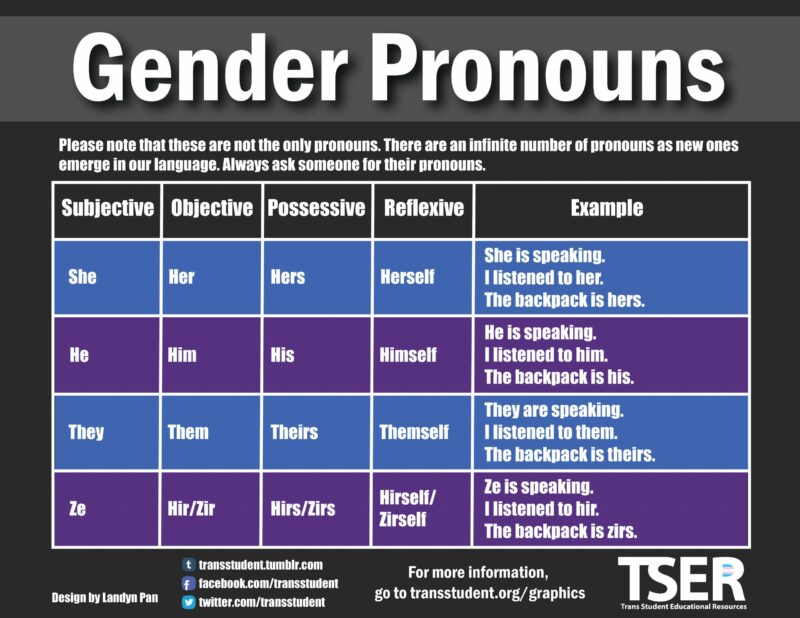 Terms to avoid
"Transsexual is a word that was widely, widely used for decades. This is the way that people refer to folks who had a type of transition related to their gender," said Julien. "In the '90s, the term transsexual began to refer to somebody who had gotten surgery or who had taken hormones, whereas the term transgender referred to somebody who hasn't. It's a word that openly describes somebody's anatomy and so a lot of people kind of floated away from that."
Over time, the word was shortened to trans, avoiding the question of whether someone has gotten surgery or not — something that "is not anyone's business," clarified Julien.
Note that using the terms transsexual and transgender may be considered a slur when it's used by people not in the community.
Cisgendered
Cisgender is the term used to describe someone who exclusively identifies as the sex they were assigned at birth. It is not indicative of gender expression, sexual orientation, hormonal makeup, physical anatomy, or how one is perceived in daily life. For example, someone can self-identify as cis and gay.
"The word cisgender was basically created to avoid situations where we were like 'there are trans people and there are normal people,'" said Julien. "We want to avoid the type of language where we're making trans people feel like they're not normal.
Warning against umbrella terms
Queer, which originally meant strange or particular,  came to be used pejoratively against those with same-sex desires or relationships in the late 19th century.
"In the late 1980s, queer activists like members of the Queer Nation and people who were fighting the AIDS crisis began to reclaim the word as a deliberately provocative and politically radical alternative to the more assimilationist branches of the LGBT community."
Meanwhile, others felt as though there were more pressing issues, such as fighting for access to housing and medical care, according to Julien.
For him, this moment in history defined a point in activism where people split off from each other: "They were the ones protesting and who are essentially more marginalized, and then there were folks who were lesbians and gay who were using that vocabulary. Since then, there has not always been the most understanding between the communities because people have different focuses."
Some people dislike the use of the word queer, and it is important to not use it as an umbrella term for all identities and experiences.
"To me, this is just another proof that how much you can't just generalize the community," said Julien. "Someone can be trans and be straight. This means they may not identify as queer at all."
Two-Spirit
Different Indigenous peoples have their own variations of the term Two-Spirit, a translation of the Anishinaabemowin term niizh manidoowag which has been historically used as an umbrella term indexing various Indigenous-specific gender identities and sexual orientations in North America (Turtle Island). Non-Indigenous people cannot identify as Two-Spirit.
"The queer and trans community are inspired a lot by the different Indigenous communities and Two-Spirit people who have actually been living these realities way before a lot of us, and the way that colonialism has impacted them," said Julien.
"We can't actually talk about queer and trans stuff without also talking about all the ways that we perceive gender, understand sexuality, and the ways that those have all been really, really impacted by colonialism, particularly for Indigenous and Black people as well."
Intersex
Although there are about as many intersex people as there are people with red hair, intersex people are not spoken about often enough or accurately enough, or "even sometimes swept to just into trans issues," said Julien.
According to the Free & Equal Intersex Fact Sheet, intersex people are "born with sex characteristics (including genitals, gonads and chromosome patterns) that do not fit typical binary notions of male or female bodies. Intersex is an umbrella term used to describe a wide range of natural bodily variations."
Non-binary
Non-binary is an identity commonly used by people who identify as neither male nor female. They may see themselves as outside of the binary gender boxes, or simply feel restricted by gender labels.
"Non-binary people are gaining more visibility recently, but there is very little recognition of non-binary people in government or institutional settings," said Julien.
Pansexuality, bisexuality, asexuality
Pansexuality is the sexual, romantic, or emotional attraction toward people regardless of their gender identity, although some pansexuals may have a preference toward a particular gender.
Pansexuality is not to be confused with bisexuality, which Julien explained is "not people saying 'I'm attracted to men and women, but it's saying I'm attracted to people with my gender and other genders.'"
"No sexualities are inherently cutting out trans people or cut out non-binary people. That's not a thing because trans and non-binary people can look and be any type of way," he added.
On the other hand, asexuality refers to the lack of sexual attraction to others.
Ongoing learning
At the end of his talk, Julien emphasized that language is an invented creation and that people deserve to create spaces for themselves using vocabulary.
This also means that inclusivity implies continuous learning
"I work in [the field] and I am learning, new words and ways that people self-identify all the time." His final advice is to simply "not generalize people or use just umbrella terms when you don't know those details" about the person.