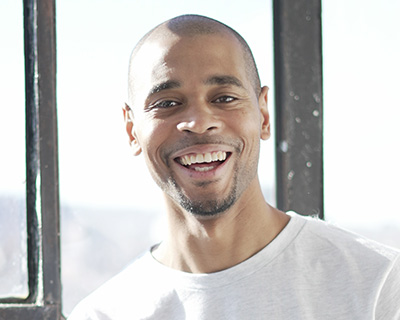 Ex-prisoner, Dawson graduate, yoga entrepreneur is a Quebec Black Changemaker
Before he served time in prison, Brandon Dawson-Jarvis graduated from Dawson College and from the University of Ottawa.
Brandon (Class of 2007, Social Science – Psychology Profile) has been in the news during Black History Month because CBC Quebec named him a 2022 Quebec Black Changemaker for his inspiring yoga enterprise named Grove Campus and his support for children. Less than a decade ago, this would have seemed a highly unlikely honour.
"All about making more money"
"I was always very disciplined, yet impulsive," he recalled. Brandon was caught up in the "relentless pursuit of feeling better. I thought it was all about making more money since I didn't have enough."
Brandon's parents were very young when he was born. He remembers back-to-school time and the Christmas holidays as stressful times for his family.
He grew up not far from Dawson, near the Lionel Groulx metro station in Little Burgundy. "Ever since I was young, I had seen a lot of traumatic events. I thought that was who I am. It changed how I see the world and other people."
Brandon loved his time at Dawson, he said in an interview with Dawson's Communications Office. He played Div. 2 Men's Basketball for the Dawson Blues and enjoyed an active social life.
At Dawson on the worst day
Brandon was in class at Dawson on Sept. 13, 2006, the day of the shooting and the day that first-year student Anastasia De Sousa lost her life and other students were injured.
Brandon remembers being evacuated and is sorry for the loss of Anastasia. No parent should have to bury their child and no child should have to worry about their safety at school, he said. "Unfortunately, from the milieu that I came from, it didn't shock me," he said. "I had seen shootings. I had been held at gunpoint by the police."
Even though he overcame challenges, stayed in school and went to university, he continued to view money as the solution to all his problems. "I got a job at a bank while I was a student at the University of Ottawa. The bank was robbed two weeks after I started working there and I was blown away by how simple it was. If only I had more money, all my problems would be solved," he said.
A crazy plan
Brandon planned a robbery with his friends. "They thought I was crazy but came around to the idea," he said. "We got the money, but it didn't work. Everything did not get better. I can tell you that money does not buy happiness."
Eight months later, the police came knocking and Brandon was arrested and went to prison. While he was in prison, from October 2013 until February 2016, Brandon sought mental heath support but was not able to receive any. When he was released, he asked his parole officer for mental health support and was told there was a six-month waiting period.
Brandon was impulsive and angry and knew he needed help. "I could not believe that there are so many resources to get people inside prison but once they are there, the resources are minimal," he said.
A turning point came when a simple fender bender turned into a series of bad events: a scuffle with the other driver, police coming and more charges for Brandon.
"I was arrested for assault and robbery and sent back to prison," he said. He began writing everything out that had happened to him and doing some self-reflection. Brandon was released two months later and the charges were dropped. "The accident wasn't my fault and I had been asking for mental health services without being offered anything. They let me out on the condition of having to see a psychologist."
The sessions with the psychologist did not help much. On his own, Brandon realized that he had to stop blaming other people. "I had been blinded by anger and resentment and this realization that I was to blame made me depressed," he said.
Trying yoga changed everything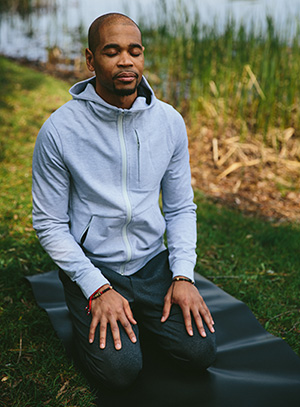 His partner at the time encouraged him to try yoga. "This little intuitive voice encouraged me to give it a chance," he said.
After two yoga classes, everything changed for Brandon. When he started meditating, he was able to identify negative thoughts and get rid of them.
He had been holding on to two very negative thoughts and had been depressed:
"I am ruining my life, which is not true, and I am never going to be happy, which is also not true," he said.
Brandon said these thoughts were constantly with him and he realized that he "did not have to believe them."
Creating a better life with better thoughts
Our thoughts create our life and we can create a new life for ourselves with more positive thoughts, Brandon explained. Who do I want to be? Who do I want to be like? These are questions Brandon asked himself.
Brandon now has a "whole panel of inspiring people." The person at the top of his list is Huey P. Newton, the co-founder of the Black Panther Party. Brandon says that the Black Panthers had a bad reputation because of the people who shaped the narrative at the time. Today, other perspectives are being shared and he finds Newton inspiring because he was a trailblazer in fighting for civil rights and supporting his community.
Brandon's yoga enterprise is named Grove Campus in honour of Newton, who met the other co-founder of the Black Panthers, Bobby Seale, on a college campus near Grove Street in Oakland, California.
Grove Campus
Grove Campus came about after Brandon opened an Instagram account in 2018 and began sharing his yoga experience and transformation from angry young man to yoga practitioner. Friends and family wanted Brandon to teach them yoga too.  He began teaching before he was a certified instructor and asked people to pay what they can.
Grove Campus offers virtual yoga retreats and sells yoga apparel and accessories. Video yoga programs will soon be available for sale to practice yoga at home. This summer, Brandon is planning to offer yoga in parks around Montreal and a Yoga Fest.
A portion of Grove Campus revenues get shared with the community through projects, such as providing back-to-school supplies and Christmas gifts for families in need. "When I was growing up, I felt like people didn't care. We want to create events and build community. We would like kids and families to feel supported and loved," he said.
Yoga mat is a mirror
For those considering yoga, Brandon would like you to know that you do not need to be flexible and that there really is something for everyone. There are a variety of teachers, styles and schools of thought. Brandon's advice: "Find a class that works for you. The yoga mat is a mirror and helps you look inside yourself."