Shedding Light on Peer Instruction – myDALITE
Note: To collect the material for this article, members of the editorial board conducted four separate interviews with some of the creators and users of myDALITE. An interview format has been retained as a way to allow interviewees to express themselves in their own voice, but their contributions have been interwoven to create a single article.
Interviews with Sameer Bhatnagar (Dawson), Yann Brouillette (Dawson), Elizabeth Charles (Dawson), Matthew Hachey (Dawson), Nathaniel Lasry (John Abbott), Kevin Lenton (Vanier), Jocelyn Parr (Dawson), Cate Payne (Dawson) and Jonathon Sumner (Dawson)
Yoon S. Uh, Cathy Giulietti and Alan Stewart (representing the editorial board of Academic Matters)
Q: What can myDALITE offer teachers?
Elizabeth: The biggest benefit of myDALITE for teachers is that they can do better teaching, whatever that teaching might be. Whether it's a lecture or engaging students in an activity by using this tool, myDALITE opens a window on what students are thinking and understanding in a way that doesn't happen with most other types of homework.
Kevin: Yes, in fact, myDALITE serves as a message feedback bomb. It provides peer feedback for students and it provides feedback from students to teacher. Another important aspect is that while in regular peer instruction students talk to each other, with myDALITE students write to each other. That process of writing turns on different parts of the brain. It forces students to really think about how to logically explain an argument and then evaluate how others have explained their answers.
myDALITE serves as a message feedback bomb
Elizabeth: myDALITE has unexpected value in ways that we did not think of when we designed it. It's the perfect tool for flipped classroom[1], and we didn't even know it. Another surprise is that it can be used very effectively for more than the conceptual questions that we thought it was good for. For example, when used with an open-ended question to gauge students' level of understanding of their pre-class readings, myDALITE can be quite revealing. Not only do students indicate whether they had difficulty grasping the material, but they say things such as "I love reading what others say because it makes me feel better that I wasn't the only one who didn't understand it", or "I learned from the ones who did understand it".
Q: What is myDALITE?
Sameer: DALITE stands for Distributed Active Learning Integrated Technology Environment, which is a mouthful. It is a web-based platform that allows you to support peer instruction[2] in synchronous or asynchronous mode. In synchronous mode [the Blink function], which is essentially clickers, if you want to poll your students on a multiple-choice question, they use their devices and it is a live polling app. These results can be integrated into a peer instruction script, meaning that you poll students once and show them the distribution: "You guys don't agree on anything. Talk to each other. Convince each other what the right answer is." Then magic happens. The students talk to each other, you poll them again and you see that they often go to the correct answer. The students have been able to convince each other. That is the synchronous part of it.
Note
Jocelyn Parr (History)
I use Blink quite a bit, to give students quick in-class tests about what they understand. Students like the Blink questions because the questions test their knowledge and understanding, and encourage classroom conversation about what is right and wrong.

myDALITE also supports asynchronous peer instruction. If students are given multiple-choice questions for homework, they might select answer "A", but they'll have to explain their choice. On the second page, they'll be asked to reconsider their choice based on what other students said for other answer choices, or stick with their own answer choice. In this way, myDALITE is simulating a classroom discussion in synchronous mode but now it is taking place with students working individually, but who read what students said in the past when they answered those questions.
Q: How do teachers in different disciplines use myDALITE?
Note
Jocelyn Parr (History)
I use myDalite to encourage students to engage with other people's writing and decide whether or not their explanations are better or worse. In History, there is not necessarily a right or wrong answer. Students have to make an argument or write a rationale to explain their position, and they have to look at other people's rationales to see if they did it better. Students can only formulate their responses if they have encountered some of the ideas. The classroom is much better because of this; students come to class and they already have an opinion.

Sameer: myDALITE is still used primarily in the sciences. The differentiation I'd like to make is not so much among disciplines but between types of questions, where on the one hand there's a correct answer and on the other there isn't necessarily a correct answer. That second use choice I think is more interesting. You show a video on some controversial topic and then you ask students to agree or disagree with some statement about that topic. The interesting part is that you can have the students who agree see what students who disagree say and possibly encourage them to consider changing their minds. The students see only the best of the answers because the crowdsourcing nature of the app is filtering responses.
Note
Cate Payne (English)
I think the quality of students' engagement has a lot to do with the quality of my questions. English is a lot more interpretive and very subjective much of the time and so I've developed two strands of questions. First, are they comprehension questions, which focus on how well students understand the text. Second, are they interpretation questions, which don't necessarily have a right or wrong answer.
For the interpretation questions, I generally mark them all correct because I'm interested in the quality of the students' interpretation. I see a difference in the quality of the students' responses but how well they respond has a lot to do with how well I asked the question.

I can explain the classic use pattern by giving an example of what I do. I assign a reading that will be covered in the next class and tell students that they should read the material and do the assignment on myDALITE. The first question is simply for them to tell me if they found the chapter very confusing, somewhat confusing or perfectly clear. And then in the rationale box, they must explain why it was perfectly clear, using concrete examples, or why it was confusing. I'll follow up that initial question with some basic questions about the reading, just to ease them into a topic I've never talked about before. myDALITE provides me with a report before I walk into class and helps guide me about what I'm going to talk about in class. It's data-driven instruction in some sense.
Note
Matthew Hachey (Chemistry)
I showed students how to use the platform at the very beginning of the semester and then they answered questions at the end of each topic. In this way, the assignment acted as a topic review with peer instruction as well because they had to justify their answers and read other people's rationales.
I noticed that students were getting a better understanding of the material and the exercises prompted them to ask me more questions when they didn't understand something. I have also used Blink questions, and they worked very well in Organic Chemistry.

Q: Can you walk us through a few basic steps that a new user of myDALITE would need to follow?
Sameer: The first step is to go to myDALITE.org, read the home page, and click the sign-up button. That will trigger an e-mail to us. Once we have verified that you're actually faculty – because we can't have students signing up – we will approve the account and send you a notification, usually within 24 hours of the request.
New user members can browse the database to see the material related to their discipline. If they see questions they like, they can click the heart symbol to hold them. Or, if they prefer, they can make their own questions. In either case, whether they have selected questions or want to make new questions, they should view the tutorials on how to start. There is also a wizard that will help walk a user through the steps to create a new question, in addition to a series of tutorial videos developed by Yann Brouillette. New users can also contact me or Jon to schedule an introductory session. In fact, for the Dawson community, there are many resources for support.
Note
Jocelyn Parr (History)
When developing a question, you have to think about what you want to get out of the students and then design the question based on that. If you are you trying to underline what is important knowledge, then you might simply want a yes/no or correct/incorrect type of answer.
If you are trying to encourage them to think about an idea, then all answers may be correct but you are looking for good justifications. What I like about myDalite is that it encourages deep engagement with ideas.

What I like about myDalite is that it encourages deep engagement with ideas.
myDALITE supports Moodle and it can also function in stand-alone mode. Many teachers appreciate having access to myDALITE as one of the tools they can use in their Moodle classes and there is an immense amount of support for Moodle at Dawson. The other part of our user base just want another tool that they can access in a stand-alone mode through emails.
Note
Cate Payne (English)
My advice to a new user would be to have a clear idea about what you want each question to do. Do you want it to be an interpretation question or do you want it to be a comprehension question?
Also, I wouldn't recommend that someone jump into myDALITE in the middle of a semester because it is important to get used to the platform.
For a teacher from a discipline other than the sciences, considerable work will be involved in developing questions and providing seed answers. It can be quite difficult to create the rationales for wrong answers because our whole training as discipline specialists is geared toward explaining the right answer.

Jonathon: In the stand-alone mode, the teacher gives students a hashed link at myDALITE.org. They click the link and it takes them to a page where they enter their e-mail address to register for the course. When an assignment is distributed, they'll get an e-mail with a link. And that link will allow them into myDALITE to do the assignment.
Users need to understand that myDALITE is a work in progress. In terms of the app itself, we do our best to respond to all the feedback and requests. And in terms of the content, it is a living, growing thing. In a month, it will not be what it is today.
As of 15 January 2019, 11,475 students have provided 71,446 rationales to 1,570 questions.
As of 15 January 2019, 11,475 students have provided 71,446 rationales to 1,570 questions
Q: How is myDALITE different from other peer instruction applications?
Sameer: myDALITE is a free, open-source, community-driven application. All the questions in myDALITE have been given by teachers who have submitted that content, under a creative commons license.
Jonathon: Unlike other applications where every course is in its own bin and students only ever see the responses generated by students who have taken the same course, myDALITE pulls all the answers to the same question into the same pot. So, if McGill decides to use some questions for its Physics 101 course, all the rationales that those students generate will become seed responses for Dawson students to see. The more people that use myDALITE, the richer the content will be.
Sameer: Another thing that sets this tool apart, is that it sits on three legs. The first leg is the teachers. If it doesn't make a teacher's life easier, it's not going to be adopted. The second leg is the students. The students have to have some benefit from it in terms of learning gains. The third leg is the support required to keep the application going. myDALITE presents itself as an alternative, where the third leg is research.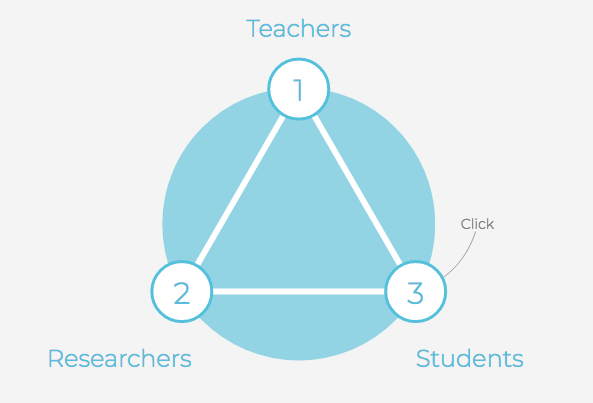 The data sitting on the platform has been generated by teachers' questions and by the students who have responded to and are learning from those questions. The thousands of responses it contains can provide the data for new research by automatically digesting and understanding the student reasoning that is conveyed in those responses.
It is quite possible to conceive of collaborations with university researchers in education, particularly in learning analytics, who have access to a pool of funding for research and graduate students who are looking for projects. They need access to live, real data to achieve their goals. And so, you can create a synergy where the third leg is research. As long as the platform contains quality data, the research arm will hold up the other two. Public funding will dry up at some point, but you'll always have grad students who need data.
Elizabeth: We're working within what we call a research-practice partnership model, which means that research informs practice and practice informs research. The research team and the infrastructure team learn from each other. Even though some individuals are on both teams, we're very good at splitting our personalities into at least two because we recognize that each group has different goals and different protocols.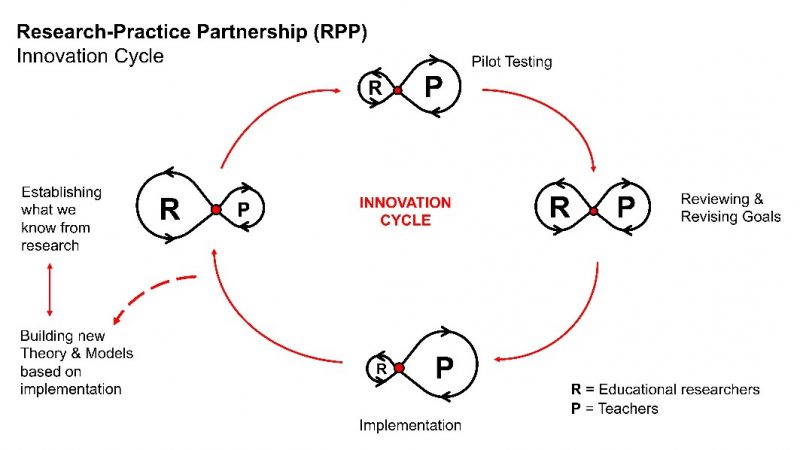 Kevin: myDALITE is a great tool to drive research because it provides all this data about how students are writing about answering conceptual questions. That information has helped to drive multiple research projects right up to the present. Equally important, that information is used to improve the scripts inside myDALITE and to improve the problem database.
Q: Can you explain some of the background to the development of myDALITE?
Nathaniel: By about 2009, because the active learning classrooms were becoming an interesting object to contend with, we[3] realized that now that students are being so active in class, it didn't make sense to do peer instruction based on a lecture model. We should have a tool that would prepare students before they come into these active learning classrooms. What would that look like? What if we could have them do a number of things such as peer instruction at home?
So let's think about peer instruction inside the classroom. Sameer gave a good example of this earlier. You, as a teacher, are alone trying to engage, say, a university classroom of 300 people. To find out whether the information you are presenting is actually sticking, you send out this conceptual test and survey the students about their understanding of the material. They click their responses and then you tell them to find somebody nearby who has a different answer and try to convince them of your answer. After you ask them to re-vote, you can see the difference between what they were thinking before and what happened in those two minutes when they actually had a discussion. If you are doing this it's because you want students to collaborate, think about a way to convince each other, engage actively with the material and come to a conceptual understanding of it which is a shared collaborative understanding.
If you are doing this it's because you want students to collaborate, think about a way to convince each other, engage actively with the material and come to a conceptual understanding of it which is a shared collaborative understanding.
If you push that logic, the entire architecture of the room is wrong because a regular classroom is not the place to have students collaborate and engage in something. If you push that logic still further, you replace the regular classroom with the active learning classroom. Now, however, peer instruction no longer makes sense because there's nobody in front to give the lecture. You still need content delivery, but it's not going to happen in class. That content delivery goes outside the class but how, then, can a student respond to a question and discuss it with peers, who may not even be logged on at the same time? And that is when the idea of doing it asynchronously was born.
What does that mean? You, the student, explain what you think about "A" because you believe "A" is the correct response, and you submit that answer, which goes into a database and will be reused with the responses from other students. If your answer is correct, the system does not simply acknowledge that and move on.
As part of the peer instruction script, the system will feed you back not only a couple of answers like "A" but also a couple of the frequent wrong answers given by students and then you'll have to choose between the answer you originally gave or an answer you feel is more convincing. In this way, you can move from a correct answer to an incorrect one or from an incorrect answer to a correct one, because there will be always be one response that is correct.
Most of the time people will migrate towards the correct answers. It is very rare that people will go from an incorrect answer to a correct one, and then back to an incorrect answer. But it could happen and that's part of the script of peer instruction.
Q: Where do you see myDALITE going in the future?
Jonathon: We are working on a number of things at present. We want to develop a better reporting system so that teachers can get the level of information they want, regardless of class size, and so that those who are using the platform in stand-alone mode can collect grades. The student interface also needs to be improved so that students can get a summary of how they are doing on assignments and be able to store each semester's work. One of the long-term goals is to give students a place – a portfolio – where they can keep track of their own learning over time.
Sameer: Looking farther into the future, developing the social side of myDalite shows considerable promise. At present, when a faculty member from any discipline begins using myDALITE, they don't know where to find good content, and more importantly, they don't know how they could be expected to know what good content is. It is possible to envisage a module that would allow new users to see the frequently used questions that generate good learning gains, where students go from the wrong answer to the right answer. Since myDALITE tracks who creates questions, it would be relatively straightforward to provide links to the people who created those rich questions, thus fostering networking between new users and power users.
Are you thinking of experimenting with peer instruction?  Set up an account on myDALITE.org to begin exploring.
Footnotes
[1] "Flipped Learning occurs when direct instruction is moved from the group teaching space to the individual learning environment." (from www.flippedlearning.org)
[2] "The basic goals of Peer Instruction are to exploit student interaction during lectures and focus students' attention on underlying concepts" (Peer Instruction: A User's Manual) (Mazur, 1997, page 10).
[3] PAREA research team (check dates and title of grant): Elizabeth Charles – Principal Investigator (Dawson), Nathaniel Lasry (John Abbott), Chris Whittaker (Dawson), Michael Dugdale (John Abbott) and Kevin Lenton (Vanier).
Articles of interest
Schell, J.A., Butler, A.C. "Insights From the Science of Learning Can Inform Evidence-Based Implementation of Peer Instruction." Frontiers in Education, 2018.
Lasry, N., Dugdale, M., Charles, E. "Whoops ! I just flipped my classroom…" Pédagogie collégiale. Vol. 27, No.3. Spring 2014.