Office of the Director General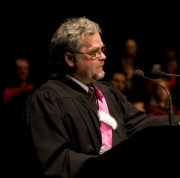 Hello. My name is Richard Filion and I have been Director General of Dawson College since 2005. My job is to make sure that the College works well as a whole and that all the services students, faculty and staff should expect to receive are in place and well-delivered.
I have an excellent team that works with me. You can learn about them and what they do by exploring the pages in the Leadership section of this website. In the Governance section, you can also access important documents that we use to help us run the College.
The work we do is often exciting and always important because it affects the very fabric of Dawson, how it carries out its academic mission and the service it delivers to Quebec society.
Dawson has faced many challenges as a community over these last few years, and many highlights as well. The inauguration of the Peace Garden in September 2011 brought us together with the wider community, coming full circle from the tragedy of 2006.
We are acknowledged as leaders in many fields, innovation in teaching, research, athletics, and social commitment. We prepare students for the world as engaged and active citizens. Time and time again, we have shown strength, courage and perseverance, working together as a community.
Whatever challenges the days, weeks and months bring, I am always proud and honoured to be the Director General of Dawson College.