Researcher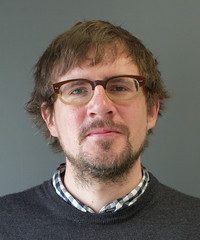 Ben Lander
Expertise
Dr. Ben Lander earned his  Ph.D in History at York University in Toronto, Ontario on the subject of WWII and popular memory.  His current research is focused on Montreal history and the application of oral history as a pedagogical tool. With his colleague Mark Beauchamp, Ben created the Dawson College Oral History Project.  In 2014 Ben Lander and Mark Beauchamp secured two years of funding from the FQRSC Projets Novateurs for their research. Ben is also a very well loved and respected faculty member who has been nominated for the Teaching Excellence Award.
Contributions to Dawson's Community:
The Dawson College Oral History Project was launched by Ben Lander and his colleague Mark Beauchamp. It is a pedagogical project where the principal aims are to train Dawson students in the methodology and practice of oral history, and to establish an archive of community voices that will be available to generations of future researchers. Ben is also a member of Writing in the Disciplines.
Publications
 Lander, B. (2005). Graphic Novels as History: Representing and Reliving the Past. Left History, 10(2).