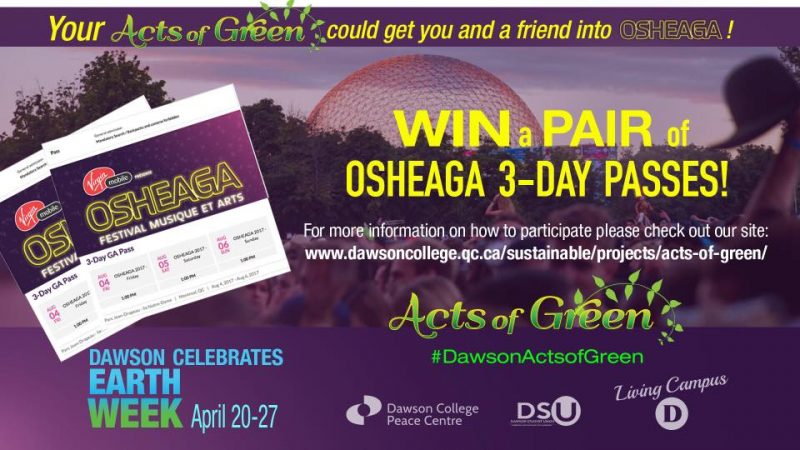 #dawsonactsofgreen
This Earth Week, Dawson's Living Campus, Dawson Student Union and the Peace Centre proudly bring you our Acts of Green Campaign.
#DawsonActsofGreen
Our Goal: 10,000 Acts of Green in 7 days (1 act of green by each student would get us to our goal!)
Why: We want to show you how easy it is to live your life and give back to the planet!
What: Inspired by the many different Acts of Green campaigns we want to see what you got Dawson! Every time you perform an act of green, and then register it at one of our stations OR with an Act of Green Roamer, you will receive a raffle ticket for amazing daily draws and one end of the week mega draw with Osheaga tickets on the line!
Who: Anyone is eligible except for the members of the organizing committee, employees of Sustainable Dawson, the Dawson College Peace Centre or DSU executive
How: Register your Act of Green at one of our stations (Lower Atrium or Conrod's) OR find an Act of Green Roamer who will register your Act of Green on the Spot! (Look out for people wearing the Living Campus Hats all week long)
SHOW YOUR GREEN: Show off your awesome act of green